It took a while but it now looks like the changes I made back in April, which aimed to improve this site's SEO, have kicked in and had a positive effect.
Change 1
The first change I made was to use a server-based Rule document to permanently redirect all domains to the same place. If you visit http://codestore.info you'll end up at http://www.codestore.net.
Whereas Google used to consider all the different (sub)domains as different sites, it now seems to consider them as one. Here's how the PageRank of each domain has been affected, according to whatsmypagerank.com:
| | | |
| --- | --- | --- |
| Domain | PageRank Before | PageRank After |
| www.codestore.net | 5 | 5 |
| codestore.net | 5 | 5 |
| www.codestore.org | 3 | 5 |
| codestore.org | 3 | 5 |
| www.codestore.info | 2 | 5 |
| codestore.info | 2 | 5 |
As you can see all sites now have the same PageRank. Unfortunately this hasn't (yet?) had the desired effect of increasing it from a 5 to a 6. The PageRank for this site used to be 6. Although I won't be losing any sleep over my PageRank.
Change 2
The other problem I tried to alleviate was that of "duplicate content". Consider the image below of a search illustrating how Google considered /store.nsf/ as a different page to the root / URL. Not good.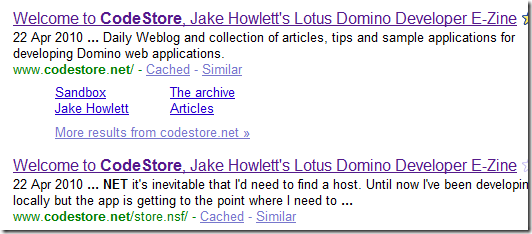 To rectify this I added a canonical link to all page. In the head of each page is now a meta tag like this:
<link rel="canonical" href="/store.nsf/" />
So, Google now knows that it should consider all the following pages as the same thing:
Again, this seems to have worked as, no matter what I search for now, I can't seem to get the same page to appear in the results more than once.
Summary
There you go. Two simple changes that have had an "immediate" effect on this site's SEO. If you have your own site or are responsible for others then why not make the changes too?
Only time will tell if the changes take the PageRank back up to 6. For now I'll just have to accept it as yet another sign that this site's not what it used to be ;-(