Although this site will always be "codestore.net", that's not the only domain by which you can get here. There are three domains codestore.net, .org and .info. All very well but it transpires that this dilutes the site's Google PageRank (PR).
As you can see each domain/access point has a different PR, as Google considers codestore.org to be a different site to codestore.net. Which makes sense, kind of, I guess.
| | |
| --- | --- |
| Domain | Google PageRank |
| www.codestore.net | 5 |
| codestore.net | 5 |
| www.codestore.org | 3 |
| codestore.org | 3 |
| www.codestore.info | 2 |
| codestore.info | 2 |
In an attempt to try and improve the PR of www.codestore.net I've now made it so that the other 5 possible entry points now redirect (permanently, as in HTTP status code 301) to www.codestore.net.
Example links:
Both should take you to the .net address and (hopefully) Google will now start considering them as one.
To do this I added an Internet Site document to handle the 5 "sub" domains, while leaving in the existing Internet Site document, as below:

All the first Internet Site document does is redirect all requests to the second one. It's the 2nd one, which controls all the web settings for the site.
Something that caught me out was that the new site document had to have the same value in the Homepage field as in the main Site document.
The Redirection document I added to the "others" site looks like this: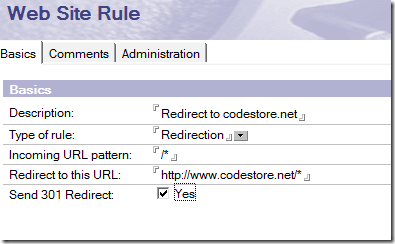 The only problem this leaves me with is that Google also seems to consider www.codestore.net/ and www.codestore.net/store.nsf/ as two different sites, as you can see in the search results below: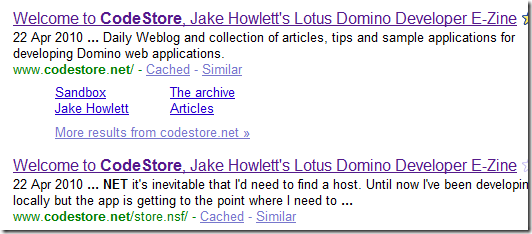 Not sure how to stop that or even if it's worth it in terms of PR. Anybody?
Until now the whole PR thing hasn't interested me that much. That said, if I had a pound for every time I'd been asked about it only to say it's "not my area"...