Rockall Design ltd (the little company I run from the office-slash-garage in my garden) was 10 years old yesterday. It's customary on this day each year that I plot a chart of turnover growth over the years. So, here it is: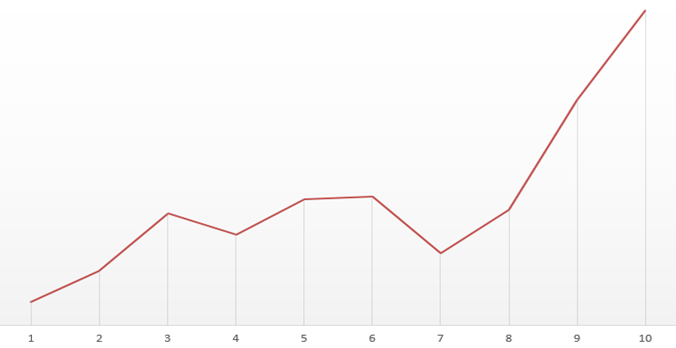 As you can see it's been a bumper year.
Last year I put down what, at the time, I thought was a good year to:
Long hours and 'hard' work. But mainly luck!
This year is much the same. Although, if I thought I was doing long hours back then I had no idea what was in store this past year.
I was reluctant to show the chart as it may seem like I'm showing off and nobody likes a show off (note however that I leave the actual number involved a mystery). Suffice to say, I would have posted the chart no matter which direction the line would have gone this year.
At What Cost Success?
I hear people talk about this thing called a work/life balance, whatever that might be. It's gotten to the point for me now where all I seem to do is work. Not only that but, when I'm not working, it's work that I'm thinking about and I find it hard to switch off. Luckily I love what I do. But there are other things I love. My family being top of that list.
I used to have a self-imposed rule of not working at the weekend. Lately even that golden rule has gone out the window.
People sometimes say to me "I'd love to work from home" or "It must be great being your own boss". At which point I normally snap up the chance to poor my heart out about the loneliness and how you're never your own boss. You will always have a boss and answer to somebody.
Once upon a time I had a group of friends I saw regularly and had a few hobbies I enjoyed.
Then there's this website! What happened there?! Well, if you turn my company growth chart upside down, it could just as well be a plot of the number of readers this site has had over the years. As my takings have shot up over the last couple of years the readers of this site have plummeted.
I'm overdoing it on the moaning though. In reality I'm happy with how things are. I'm earning more money than I ever dreamt possible. I know it won't/can't continue and I'm making sure I make as much hay as I can while the sun's shining. Being self-employed means I have to provide for my own retirement. I'm not greedy or obsessed by money, but it would be crazy for me not to take the opportunity to capitalise on any chances I'm given to earn.
Still Domino?
I'm sure the question on everybody's lips (well, at least on those of the people who've not stopped reading the site) is "what technology is earning your crust just lately?".
This time last year I said it was Lotus Domino that was responsible for most of Rockall's turnover. This year however the picture has changed and, whilst Domino is still in the equation, it's now Microsoft Dynamics CRM and ASP.Net MVC that I'm working with.
Whether Dynamics CRM remains in the picture long term or not I don't know. It certainly feels like it's got a brighter (more lucrative) future for it than Domino does. It's an interesting product and hopefully I'll find time to write about it here soon.
Right, back to work. So much to do....