Two weeks ago today I mentioned that I'd ordered a Virgin Media cable internet connection as a redundant 2nd connection in case my first goes down.
Today the engineer is due to come and connect me up. Yep, a two week wait to get connected. Luckily I'm already on the internet, otherwise there's not a chance I'd ever wait that long.
Anyway, I booked a date and the AM time slot for the visit and went about "waiting". Then, yesterday I got the message below: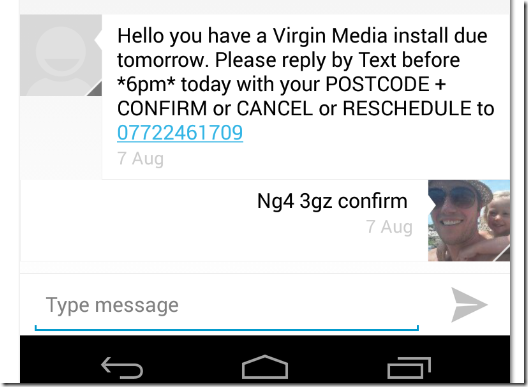 Which sent my overly-paranoid and analytical mind in to overdrive.
These kind of text-based (non verbal) systems concern me. Note that I got no reply to my confirmation reply to say "Thanks for confirming". I now have no idea whether the engineer is coming or not. The time slot was 8am-1pm and it's now gone 10am...
Did I get my confirmation reply wrong maybe? Should the postcode have been all uppercase? With no space? Maybe the "+" sign is needed? Maybe "confirm" should also be in upper-case!?
I have no idea whether it's a) a person at the other end reading it or b) a PC with a badly written and intolerant string parsing function.
It reminded of something I said on Twitter a while back:

Dear Virgin Media, if you want to confirm that I still want the timeslot I've been waiting two weeks for, CALL ME.
If I had been waiting patiently for 2 weeks for a connection and then took a day off work to wait in, only to find that nobody came because, oooh, I dunno, your SMS didn't arrive, or my reply didn't, or I lost/damaged my phone, or changed my number, or I had my phone turned off, or my kids were messing with my phone and marked the SMS as read, or any other scenario that really could happen, I'm going to be pissed off.
It's the kind of conversation I get in to with my customers when "brain storming" ideas revolving around communication with their customers. Even the best ideas come with a myriad of "But, What Happens If..."