Just a quick LotusScript tip:
Hopefully you've been inspired by my recent adventures in creating custom LotusScript classes. If so, you'll have noticed that, when creating your own properties and methods in these classes that they get their own comments added in.
For example, if you type "property get foo as string" and then press return, you'll see something like this:
%REM
        Property Get Foo
        Description: Comments for Property Get
%END REM




Property Get 

Foo 

As String





End Property



Domino Design auto-adds the comments above the property for you.
It's easy to see this as an annoyance and find yourself taking the comments out to keep your code tidy. However, I've forced myself to stop doing that and now make a point of adding in a meaningful comment. Like so:
%REM
        Property Get Action
        Description: Value of the "Action" field, which is used by the
        workflow associated with most documents
        
        Value is only available when editing/saving
        (not stored on document)!
%END REM
Property Get Action As String
        Action = GetFieldValue("Action")
End Property
The benefit of doing so is manifold. Not only does it remind yourself what your intentions were but also, more importantly, future maintainers of the code.
But the real tip here is that, if you comment code using the standard way then, when you hover the mouse over a call to that property in use in your code you get to see the "documentation" inline. As below: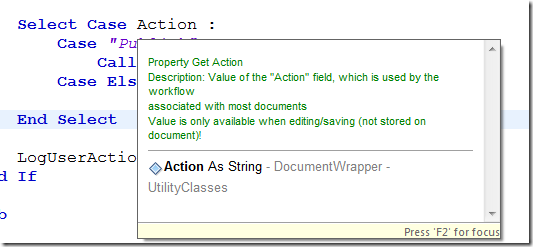 That alone makes it worth the time to document properly. Even if just for your own benefit as a quick reminder of what everything is.