It must be time for another update on how my desk is evolving towards the elusive "perfect desk". Previous updates here.
Here's my desk now, following a recent overhaul: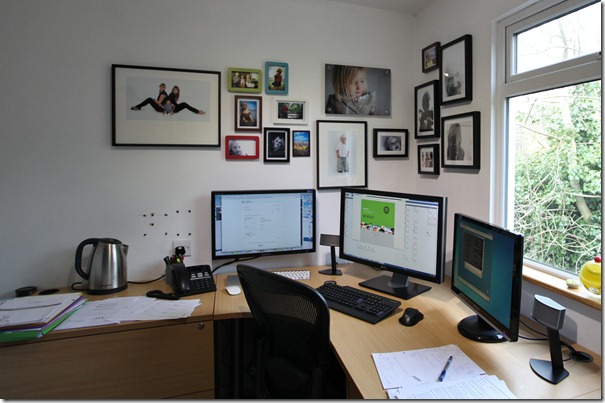 The two main differences from before: The Lenovo T400 laptop and its docking station have gone and the left-most monitor has moved positions to be on the right.
My desk needs to not only keep up with the way I work, but also the changes of the times. I decided it was time I got "with the times" and "embrace the cloud" and all that stuff.
For years my main work PC has been a laptop. For the obvious reasons, such as being able to work anywhere, being able to hide it when I go on holiday etc. It used to be that I'd undock the T400 each night and take it indoors of a night time. Then I bought the Yoga 13, which fast became my "house laptop" and the T400 was confined to the office. The T400 was getting on for being 3 years old and had the noisiest damned fan in its docking station! It's days were numbered!!
While using a laptop as my main PC I have always missed having a dual monitor setup, which laptops can't deal with. Not easily anyway.
So, I've bought a Lenovo E31 SFF and stuck 32GB of RAM in it. This is now my main work PC and drives the two monitors to the right. I've missed having dual monitors!
Using the recently-discovered Hyper-V Manager tool for Windows 7 means I don't need the monitor attached directly to server. As you can see above the second monitor is showing a Domino server running in a VM on the server. It makes day-to-day Domino development so much easier having ready access to the server console.
No Email Client
The cloud now means I'm not tied to a single machine. When I do go "on the road" I can easily take everything with me.
For the first time in as long as I can remember using a PC with email I'm not going to install a Mail app. I've used various email clients over the years: Opera, Outlook Express, Lotus Notes, Thunderbird, Postbox, Mail.app. Now I'm just going to use Gmail.com online. Got to admit I don't like the idea that all messages aren't backed up on my own PCs. But hey. Brave new world and all that.
The only non-cloud-stored data I work with are Notes database. I tried using Dropbox to store my Notes Data folder, but, unsurprisingly, it didn't work. It probably could work if you made sure to only have Notes running on one PC at a time.
Moving from one PC to another this time was a lot less painful than it has been in the past. Still took a couple of hours. Not the full day of time it used to though.
Who knows what the 2014 update will bring. I just hope I'm still lucky enough to be working from my own little home-office, so that it matters either way.