On Tuesday I was talking about whether it does a user an disservice to simply give them a selection of "Form X by Field Y"-type Notes views when building for the web.
I then (over-)promised to show some alternatives. Hopefully you're not expecting anything revolutionary, coz that they ain't. Just something different. Extra tools for the toolbox.
Infinite Scrolling
The first alternative is to use "infinite scrolling". This is something you'll be used to if you use Twitter or Pinterest. The pages load the most recent content and, when you scroll to the end of that list, it loads more. And so on, until there's no more to load.
The screenshot below is of this Domino-based "infinite scrolling" view.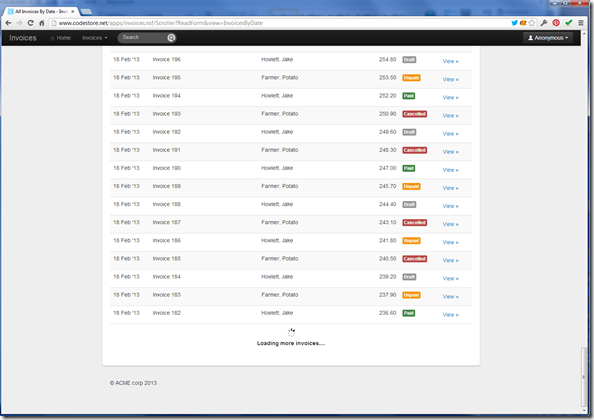 Combined with the fact some of the column headers are sortable/clickable it makes the "Invoices by X" links in the nav bar redundant, as it does page navigation.
What surprised me was how "simple" it was to implement. At first I'd gone looking for ready-built jQuery plugins to do it, but they all weighed in at +20kb and were either overkill or not particularly suited to Domino (nothing ever is!).
So I wrote my own jQuery plugin to do the job, using about 20 - 30 lines of code. I'll talk more next post on the code involved. For now I want to discuss the pros and cons of these types of view.
Advantages
Hmm. What are the advantages? I'm not really sure. They're nice, I guess. Saves the user having to press the "Next Page" link each time they get to the bottom. Other than that...
Disadvantages
Oddly, I can think of plenty of these, even though I'm suggesting they're use as an alternative to the normal way of doing things.
What I find most annoying about these views is that the scrollbar jumps out of each if, like me, you use the mouse to click the scrollbar and pull it down to scroll. Once more content loads the scrollbar puller moves and you have to move your mouse back up to grab hold of it again.
Once the first page loads you can't use the scrollbar's size as a visual indicator to work out how much content there actually is.
It breaks the back button (although there are ways round that)
It blocks access to the page's footer area, as you can never quite get to it until all the content has loaded! In the example above, there isn't anything in the footer, but if you do have something like FAQ or Contact Us links you don't want to prevent people ever being able to scroll down to them!
As with everything and as I always say, it's a case of "horses for courses". Hopefully when I show the code in the next post you'll see these auto-scrolling views aren't as hard to implement as you might have thought.