Do users really use Views?! It's a question I've been asking myself more and more as the years go by, but it's a question I don't really know the definitive answer to.
The accepted approach whenever creating a Domino-based app is to stick in half a dozen or so views, each sorted by one or another primary field. Let's say it's an invoicing app to track invoices. You might have any of the following view and more: "by number", "by customer", "by value".
Do users want that though? To me it simply harks back to the days of Notes client app where the left hand navigation is simply made up of a set of links to different views.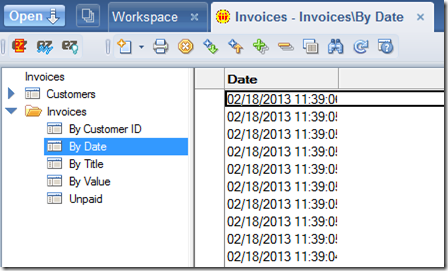 It might work well enough in Notes, but does it translate to the web? The web is different to Notes, but it seems that we just try and mimic Notes apps in the above regard when webifying them.
Working as I do, remotely and isolated from end users, it's often hard to gauge how much a user uses or relies on what I give them. While it might seem acceptable to take a "no news is good news" stance, it doesn't mean the user is perfectly happy just because they haven't complained.
Over the last few years I've found myself questioning the usefulness of "Form X by Field Y" views. Especially those that contain 1,000s of documents and only show 30 at a time, with the obligatory "Next" / "Previous" navigation system at the bottom.
Surely users don't actually navigate through these views, page by page, looking for what they want, on a regular basis?!!
What's the alternative? I guess it's to give them quick and ready access to whatever it is they're actually looking for. This will vary for each application, but in most cases I'd guess they looking for one document in particular or a small subset of documents based on some criteria.
Either way what we should do is ask the users what their most common goals are and make it as easy as we can for them to accomplish them.
Over the coming days I plan on showing a couple of ways in which I think we can help. What I'll show are not perfect solutions by any means (but then nor are paginated views). They're just alternatives. One thing I want to show is an "infinite scrolling" view. The other is a "quick search" feature.
For now, it's open for discussion...