I'm 38 today. As a present to myself I've bought a Concept 2 rowing machine. Well, actually I've hired it, with a view to buying it. They're not cheap and I want to make sure I get on with it first.
It's in my garage, which, as you may know, makes up the other half of the out-house my office is in, so it's literally next door to where I sit all day every day, making it an easily accessible means of exercise.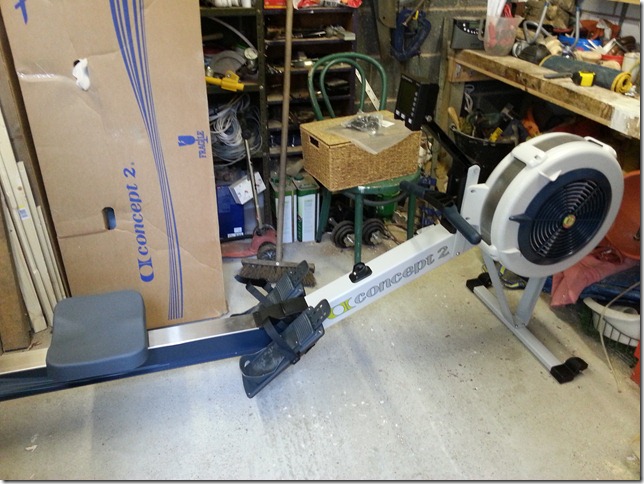 Having a birthday so early in January means I can double it up with my new year resolution. This year I want to get in better shape, with a view to being able to take my top off in public without feeling a sense of shame. Although, it's more about my general health, longevity and well-being. Not just vanity. Honest.
Rowing seems the ideal all over aerobic workout and being able to squeeze it in without leaving the "building" or joining a gym is a bonus.
Another reason to turn to rowing is that it has a low impact on the body. Until now my only means of keeping fit has been running. While I enjoy running and don't plan on stopping, I'm aware that it's having an impact on my (ageing!) body. I also find it hard to get out and run as much as I need to in order to counter-act the amount of crisps I eat and wine I drink. I'm a fair-weather runner and only feel inclined to run on blue sky days, which, in England are few and far between. Typically I run about once or twice a week, which isn't enough. Whenever I do step up the running and go more often my body complains. Hence turning to the rower.
The Concept2 arrived earlier this week and so far I'm loving it. In fact I'm finding it hard to stay off it. My best 2k time so far is a rather embarrassing 8m 20s, which gives me plenty to improve on. My goal is to join the "Sub 7" club.
Are any of you guys indoor rowers?