Rockall Design was 9 years old yesterday. It's become customary on this day that I post a chart of growth (income vs years running).
So, here it is: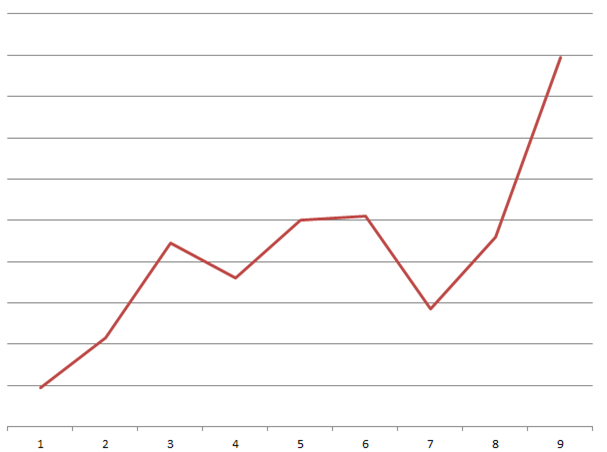 As you can see this last year has been something of a bumper year.
The secret to this past year's success? Long hours and "hard" work.
But mainly luck!
Well, I say luck, but again, as with 99.5% of my work, it's down to being the owner of this site and having put in endless hours in to its running. Without the site the luck wouldn't happen. But it's luck in the sense that I've done nothing to promote the business or try and build revenue other than running this site.
Lessons learnt this last year: doubling turnover doesn't necessarily make you twice as well off. Also, while I agree that money can't buy happiness, it can help prevent misery, brought on by the stress of not knowing where the next month's grocery money is going to come from.
Perhaps the reason I don't feel twice as "rich" is that the frugality that came about in Rockall's annus horribilis has stuck with us. We continue to watch what we spend, collect money off coupons, dig out bargains etc. As a bonus we're now debt free and I've even put aside all my tax this year and even saved some money that we hope to use to put towards a Buy To Let property. Times are good right now.
Doing well is a nice feeling. I can't imagine the growth pattern continuing, but even if it just stayed steady I'd be very happy less miserable for sure.
Please don't hate me for talking about being "well off" in the open. It's just what I've come to do each year and it happens this year was a good one. No numbers are mentioned. How well off I am is all relative to what I'm used to and what our outgoings / living costs are. I'm not bragging. Just being open.
Update: I forgot to mention - the vast majority of the work over the past year was Domino-based!