One of the things I liked about the Galaxy S3 is that is has NFC capabilities. Meaning I could do some low level hackery and home automation by sticking tags all over the place. That and, maybe one day, I'll be able to use Google Wallet when I'm out shopping. Yeah, right.

So, after buying the phone I ordered a pack of six tags off eBay. Just the cheap unbranded ones. They're about 50p each and about the size of a 50p coin.
Apparently there's a million uses for them, but, as soon as mine arrived, I found myself stumped. I had no idea what to use them for.
Eventually I found a use. I stuck one to the electricity meter in the cellar. Once a month, when British Gas send me the reminder email I go in to the cellar and input the meter reading in to an app on my phone.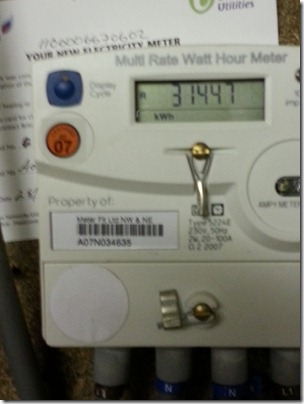 The NFC tag I've stuck to the meter above is "programmed" to launch the meter reading app on my phone. Saving me about, oooh, three seconds of my time per month. Wow. It'll take about a year of reading to pay back the time it took to set it up and get it on there. Doh.
It wasn't until I bought the bluetooth media receiver which I mentioned yesterday that I finally found a good use for one.
Here's a tag on the bottom of the receiver: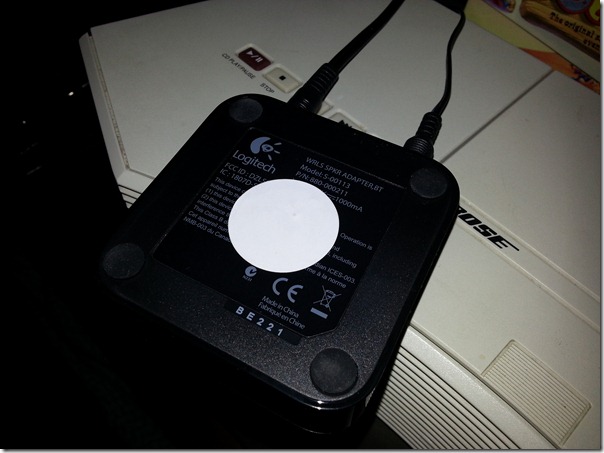 Now I can simply touch my S3 (or the Nexus 7 for that matter, which also has NFC built-in) next to the receiver and it will enable Bluetooth on my phone and then launch Spotify. Now that really does save some time -- fiddly messing about in phone settings and stuff. Cool.
To "programme" them I'm using this app, which nice and simple to use.
I might add a similar tag in the car to turn on Bluetooth when I get in it. Maybe even turn on "Driving Mode". Although I'm still not sure what that means.
Anybody else using NFC tags -- if so, what for? Maybe one on the fridge to launch the Remember the Milk app ;-)