Having a selection of old phones lying around comes in handy sometimes. Not just as a website test lab but also for other tasks.
This week I've been working on adding SMS-sending capabilities to a Domino-based website (using Twilio's API if you're wondering). In doing so I've been sending out a lot of SMS messages.
Being the type of person who goes a little OTT with things like this I've been sending to 4 different numbers!
To help me remember which phone has which SIM and is with which carrier, I made the page below: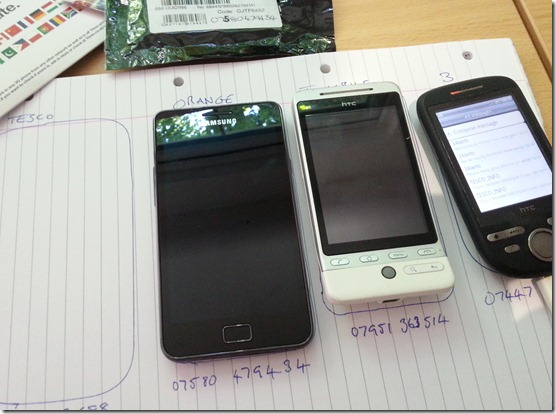 I drew round each phone so I knew where it belonged and then wrote the carrier name above and its phone number below.
The Tesco SIM is my day-to-day proper number. The Orange SIM came with the Galaxy S3 (it was 50GBP cheaper if I bought it with a 10GBP PAYG card!!). The other two I bought for the task at hand.
The two new SIMs I bought cost 99p each and there's no need to top them up to receive SMS, as in the UK we don't pay to receive SMS.
At some point I may top them up though as I'm looking for a new carrier, because mine are living up to scratch. Lots of dropped calls and lots of calls just not making it through to me. Turns out I live in something of a black spot for mobile reception.
I surprise myself sometimes with how much of a nerd I am!