Having spent quite a bit of time converting this site to a Responsive Design I then thought I'd look at visitor stats to see how many of you are mobile.
Turns out it's surprisingly few of you. As little as 3% of you use mobile devices!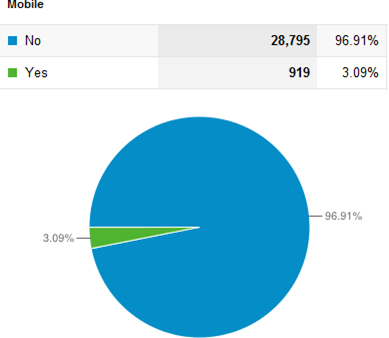 This breaks down further, by device type, as follows: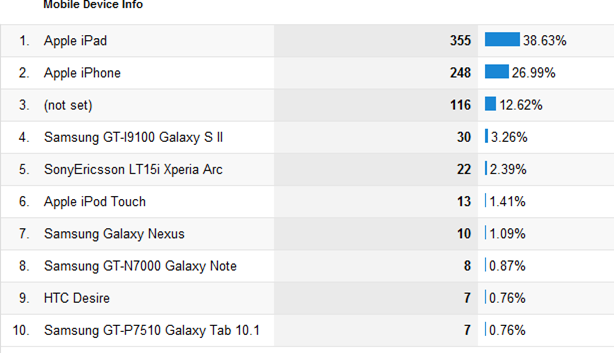 So, a third of those of you using mobile devices are using an iPad, which kind of worked ok before I converted to responsive CSS. All my work was to cater to 2% of my readers. Doh.
Would I have bothered converting this site had I done it the right way round and check the above stats first? Possibly not, so I'm glad I didn't check, as I'm glad I did the exercise. Not only as to learn more about it but also to spread the word. Which, after all, is what having a techy blog is all about, right?
Also, remember that Responsive Design is not just about mobiles! It's also about varying screensizes across all device types. Netbooks, laptops, TVs, 27" iMacs. The whole gamut.
It was interesting to see results from Wednesday's survey on interest in Responsive Design. Only 6% of you have no interest. I'd have thought that would have been higher.
Based on the interest in it I'll talk about it a little more next week. Probably just a more in-depth how-to and then I'll stop talking about it.
I'll leave you with some other great examples to ponder:
If you're still not convinced...