Over the years of running this site I've had quite a few people say things like "If ever you're in Smalltown, AZ I'll buy you a beer" - safe in the knowledge I'll never make it to Smalltown. Only one person ever offered to buy me a beer in New York city and I made sure I remembered it for the years between them offering and me finally making it there this weekend.
Not only did Vince buy me a beer (and some bourbons) he spent his whole Saturday showing me the sites, kindly taking photos of yours gormless truly as we went: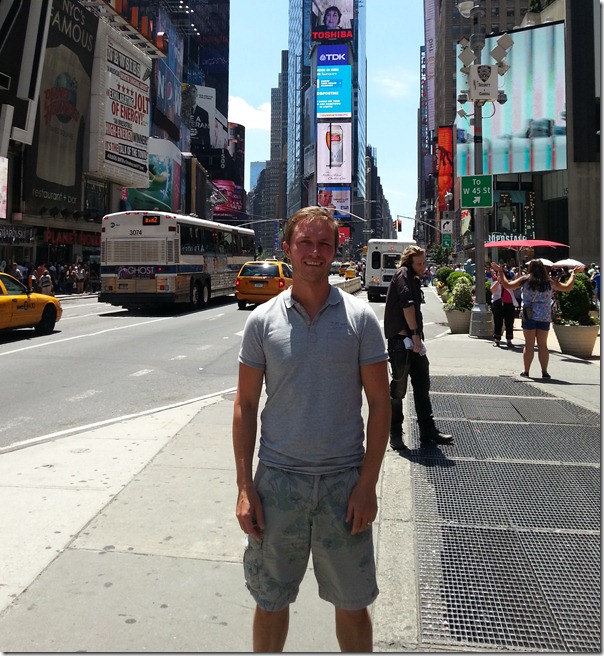 I'd never been to NYC before and had a great time. I can't wait to come back with Karen in 3 years for our 40th birthdays. Vince is a pilot and has offered to fly us round the Hudson and Staten Island. No chance of me forgetting that offer!
I was pleasantly surprised by NYC. I'd assumed it would be a crazy manic place to be. But it wasn't. It was quite relaxed and not at all that busy. We barely queued for the Top of the Rock: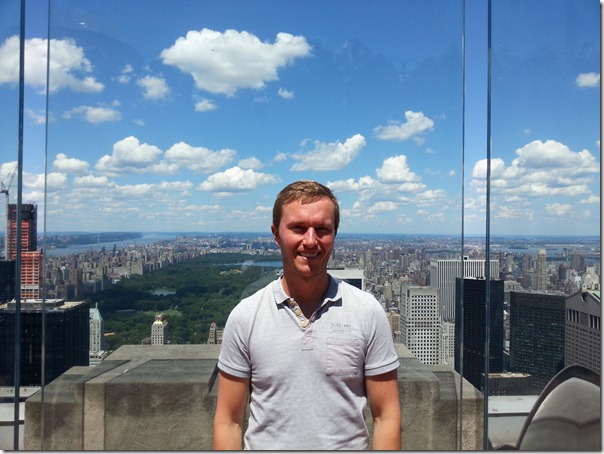 Contrast that with, say, Paris where the queue for the Eifel Tower was 100s of metres long. So long that I walked away from it.
Out of all the cities in the world I've visited so far (mostly European capitals), New York is the one I'd be mostly likely to come back to. Again and again. Rome is the only other City I felt I'd go back to, but that was just for the pizzas.
On America
I've only ever been to America twice before. Once to a small up-market holiday island called Nantucket. The second time was to Disneyland in Orlando (LotusSphere). Neither of those visits really felt like I was seeing the real America. This time I'm in New Jersey and feel more like I'm getting a flavour of the place. In effect I'm living and working here, albeit only for two weeks.
The first thing I noticed was just how friendly all Americans are. Like, almost over-friendly. It's nice though and I like it. The other thing I hadn't noticed on previous trips was just how big food portions are. I'm yet to finish a meal and have started to turn down the free "sides" that come with all meals.
Overall, I really like America. Although there are things I prefer about home - like being able to walk places and better TV. I've always liked the idea of America and find the history of it fascinating. I'm glad they beat us in the War of Independence!
At some point in my life I hope to come back, hire a car and take a road trip coast to coast...