Yesterday I got some spam. Nothing new or unusual about that. What was strange was what followed. I deleted the spam but then started get dozens and dozens of replies from people asking to be removed. Some polite, some abusive but all very misguided in believing their actions would work.
I must have gotten close to 50 emails, which needless to say is annoying. Despite using GMail's "Mute" feature people were changing the subject, which unmuted their newly created thread and the emails continued. What bothered me was that I didn't understand how it had happened, so I set about working it out.
The Reply-To and the list of To addresses for the email are all *@GoogelGroups.com addresses. Googlegroups.com does in fact point to their site and appears a legitimate domain.

To work out what was going on I signed in to Google Groups and clicked in "My Groups" (I've used Google Groups in the past but don't recall ever signing up to any). Nonetheless here's what I saw: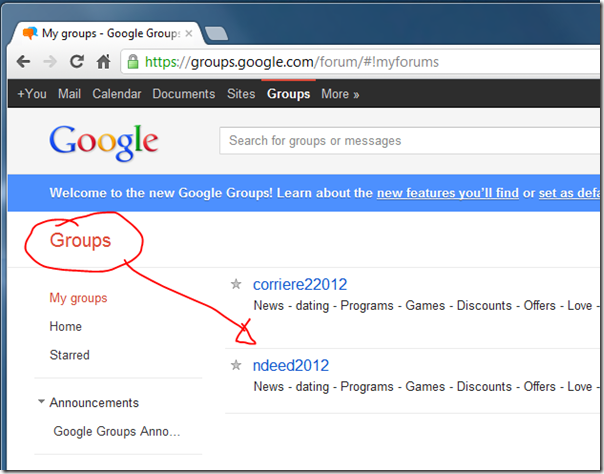 So, apparently, I'm a member of the group to which the reply-to of the spam was sent. As are lots of other people. Hence all the round-robin emails from all the idiots to the other idiots.
Then, under the Manage My Memberships section I found the issue.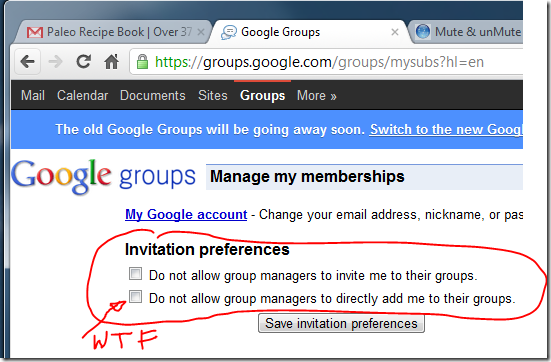 Looks like I "allowed" myself to be added to groups by their "managers". WTF Google!?
Needless to say I've now disallowed my addition to groups and removed myself from the two I was in, which should stop the current spam stream and any future spam.
If you have a Google account I suggest you check your Groups settings before you spend a day deleting emails from deluded people thinking that replying to spammers gets you delisted.