Continuing on from yesterday's perfect desk posting, let's look at perfecting the desktop shall we. I've always used my Windows desktop as my main storage area for either what I'm working on at the time as well as long-term project's folders, downloaded files and read-later links/reminders.
Generally there's about 40 icons on there at any one time and I try to keep them organised in such a way that I can quickly find what I want. However, every now and then, explorer.exe will crash and the whole order of icons will get randomized, which is very annoying. There must be a better way!
Well, below is a screengrab of my desktop now and it's much, much better. Notice the arrangement of the icons!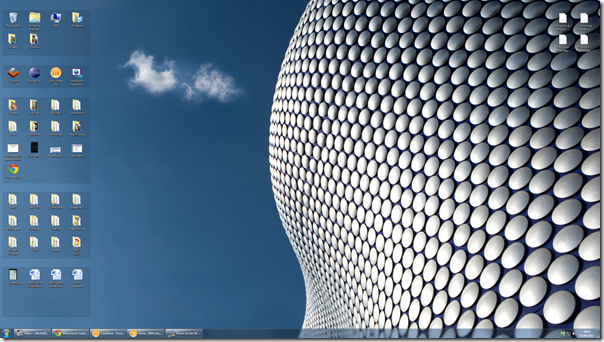 They're "fenced" in to little organisational pens using a product called Fences, which is the latest addition to my can't-live-without-it list of software.
Here's a close up: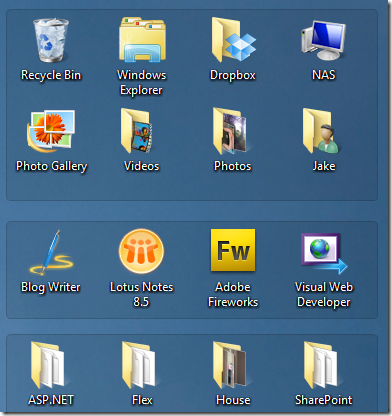 My desktop is so much more useful now that I know more-or-less exactly where things are going to be when I need them. Couple this with the new 27" monitor and the fact I can run my apps at a large enough size without having to maximize them and I think I may well have hit upon the perfect functional desktop.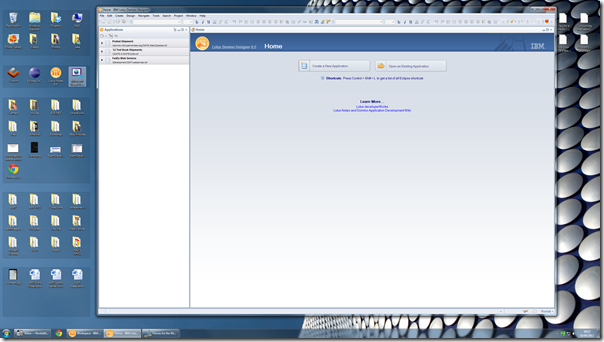 Anyway, give Fences a try. It's free for the basic version and only $20 for the paid version which adds a few nice features.