Last week I took delivery of probably the most game-changing piece of IT kit I think I've ever bought. No, not an iPad 3! A 27" monitor. I've been pondering buying one for a couple of years now and finally gave in to temptation.
Going with all the positive reviews I went with the consistently top-rated Dell U2711 and am not disappointed. Not at all. In fact I'm blown away.
The U2711 is running at a massive 2560 by 1440 pixels. Until last week I'd been using a 24" monitor at 1900 by 1200, which has done me well for the 4 years I've been in this office (four years!?). It's amazing what a difference the extra pixels make and I'm kicking myself for waiting so long.
Here's my new setup: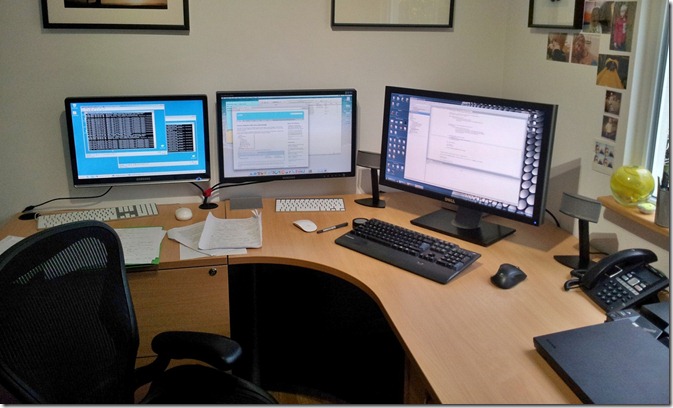 From left to right there's a 22", 24" and a 27" monitor.
The program you see running on the main monitor is Domino Designer. Previously, on the 24" I'd always ran it maximized. Now I don't need to (and don't like to) and run it like you see in the photo. Even at that size it's more than enough room to code in. The bonus now is that I have direct access to the desktop icons. No more needing to minimize all apps to get to the desktop, which is now always on display.
Size aside, I've now also got a better picture. The Samsung 245B monitor it's replacing never did felt like a quality screen. I must have got used to its mediocrity as the quality of the Dell screen blows it away and is more than noticeable.
In short, if you're looking for a way to improve how you work then you really ought to consider a 27" monitor and I highly recommend this one. I'm already considering the 30" Dell U3011 as being next year's treat. I'm jut not sure if 30" is too wide...