Yesterday was a good day for me. I learnt of couple of tips from you guys that will help me loads. I'll share them here.
Auto-Saving Java
Firstly a big thanks to Andrew Magerman who has saved me hours and hours of time (potentially) with the following tip, which solves an annoyance I blogged about 3 years ago and have been suffering with ever since -- if you save a Java class from within an Agent or Script Library you have to then save the Library/Agent too. But now you don't need to, with the following preference enabled: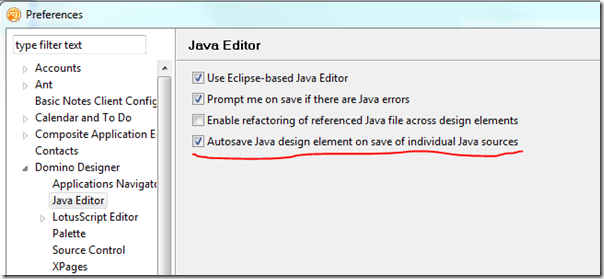 With this turned on the Agent or Library gets saved at the same time you save a class from within it. I'm not going to dwell too much on the fact I've only just found out about this and how much effort it's costs me over the years.
A New Perspective
I've known about the concept of Perspectives in Eclipse for ages, but never paid them much attention in Domino Designer itself. I've always just stuck with what I was given.
Now, thanks to René Winkelmeyer I have a new better-suited perspective on my Domino databases. As you probably know, I'm not an XPages developer.
René let me in on the "Forms/Views" Perspective which is akin to a "Domino Classic" view and cuts out all the new fangled design elements not relevant to you.
To get to this Perspective go to the Window -> Open Perspective -> Other... menu and choose it from the dialog, as below: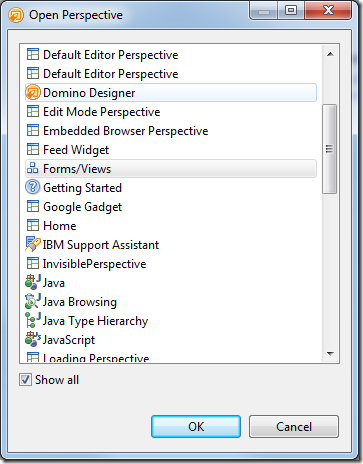 What this does is hide things like XPages (and other bits) from the left hand navigator of database design elements.
Taking it one step further you can toggle elements on/off per perspective from with Designer's preferences, as below: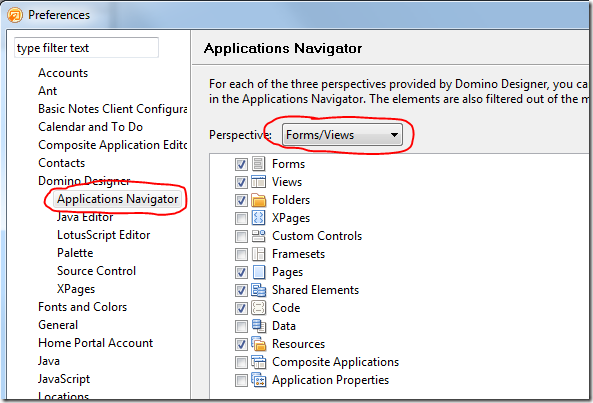 My Domino Designer Perspective now looks like what you see below and is a lot less cluttered and distracting.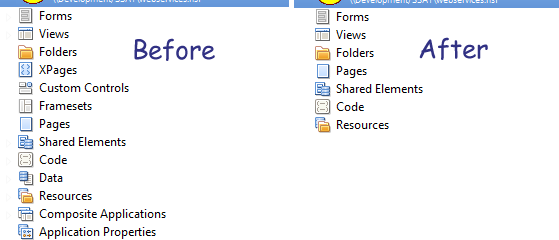 What other Designer-based and/or Java-coding tips have you guys got hidden up your sleeves? Or maybe I need to spend half an hour looking around Designer preferences and acquainting myself with it a little better...