Almost ten years ago I bought some Bose MediaMate. Thankfully Bose have got their online act together since then and buying the new pair you see below was quite a bit easier.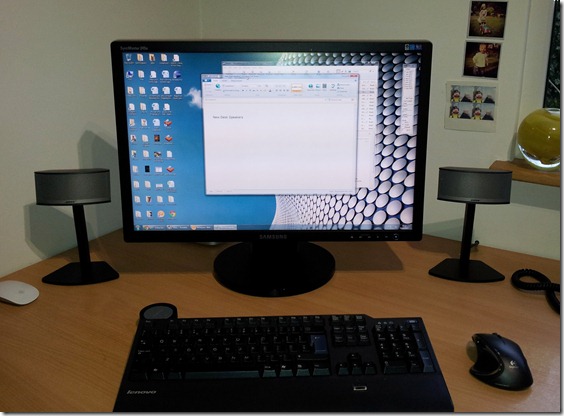 I've replaced the MediaMates with a set of Companion 5s. They're a bit pricey, but I listen to music 8 hours a day, 5 days a week. The speakers I use are arguably as important a choice as the monitor. Well, that's the argument I made to my wife anyway.
The MediaMate's (which are on ebay if you want them) were always good speakers, but the Companions have blown me away (almost literally until I turned the "bass compensation" knob down). I can't believe the difference. Probably made by the subwoofer - sorry, "AcoustiMass Module" - under my desk.
I'm not an expert in acoustics but have an appreciation for what - to me - seems like a decent sound. If you read in the forums, which I don't, then you'll hear a lot of bad stuff about Bose. Over-priced and cleverly marketed, apparently, which may be true but they've got me. I get "brand blindness". Once I've bought something I like then I'll only ever buy another of them from the same company.
If you want to test out your speakers here's a good track. If they can't handle that you need a new pair.