It's been a while since I found anything that excited me out there in developer land. Then, yesterday, I stumbled upon Bootstrap via Anil Dash's blog entry on it and I was instantly intrigued. So much so that, within an hour or two, I had this working classic Domino app up and running.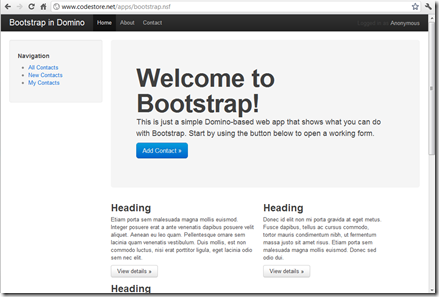 I've been looking for something like Bootstrap for years!
What is Bootstrap?
At it's most simple it's just a CSS file. But it's more than that. It's a "framework" that lets you quickly and simply produce web layouts without the tedious task of writing your own CSS and worrying too much about how layout your HTML elements.
I know there are other frameworks out there that do a similar thing, such as Dojo, but Bootstrap is different - to me at least - as it's small and simple. The idea of using something like Dojo just doesn't sit well with me! If you too are like me and like things simple then you really, really want to look at Bootstrap!
Taking it further than it's CSS framework, you can slot in some other tiny little helper JavaScript files to do things like alert boxes and tabs. It's all just brilliant. I don't know how I managed this long without something like it.
I'll try and keep building on the demo but wanted to bring it to your attention for now...