My friend's pub, The Royal Oak, was a finalist in the "traditional pub" category of the Derbyshire Food Awards for the second year running. As proud publicans they asked me to make this more obvious on their website. So I stuck a couple of rosettes at the top of it, as you can see below: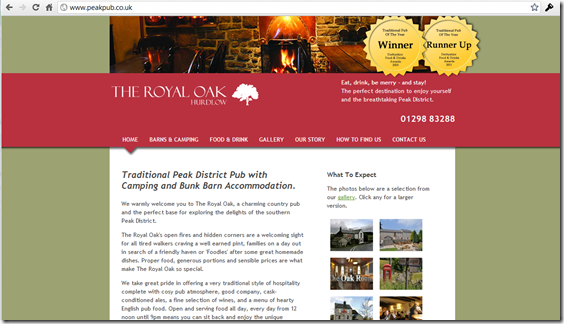 Take a look at the source code if you're curious how I did it. Basically it makes use of three "tricks": negative margins, floats and transparent PNGs. It was easier to do than I thought it might be.
While doing that I was reminded of a TV show the other night called the "Curse of the Trip Advisor" in which B&B and restaurant owners were reduced to tears over the 1 star, business-closing reviews they were getting from disgruntled customers on tripadvisor.co.uk.
Now, it being telly, I took most of it with a pinch of salt. Who knows what the real story was in each case? But, while watching it, I thought I'd take a look and see what people had to say on Trip Advisor about places I'd been to and liked.
The first reviews I looked at were those for the Royal Oak. Rightly so it has a near-perfect overall rating, but I couldn't help noticing the 3 single-star ratings of "Terrible". On reading them I could see a picture forming of the person writing them. There's a certain type of person that takes glee in complaining and Trip Advisor seems full of them.
I know the staff at the pub and know the general ethos with which they run it; that they'll do anything they possibly can to keep the customer happy. The trouble is that some customers will never be happy. No matter what.
While some of the complaints sound plausible and worthy of a mention none of them are so bad that a single star rating of Terrible is called for. Maybe 3 or 2 stars, but 1? Come on, surely they're reserved for the Fawlty Towers of the world (Waldorf Salad anybodoy?)!
In all 3 cases the Royal Oak's manager replied with a stock business reply of "Sorry to hear that you... we will be..." etc etc. I can only imagine what it would read if he'd been honest.
My Own Experience
It all brings me round to my own experience of 1 star ratings. In my case for a little app I made for Android, called Signature Saver. It's something I give away for free and don't even bother putting ads on it. Nothing in it for me at all - I just did it as an experiment.
The app has had +5,000 downloads, which is way more than I'd imagined it would get. So far it has 15 ratings and an average of 4.4/5 which is nice.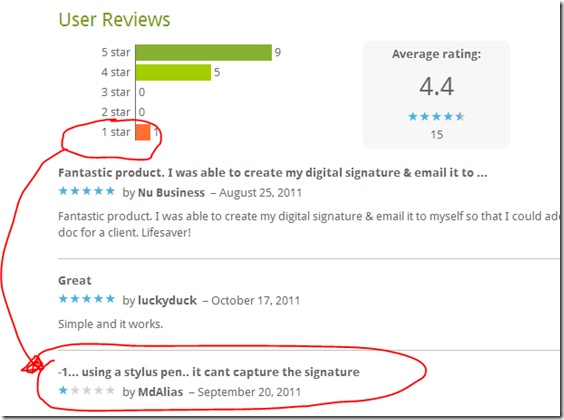 However, there's always the one isn't there. Some anonymous idiot gave it a 1 star review because it doesn't work with a stylus pen.
What's most annoying about this is that it does work with stylus pens! Why on earth wouldn't it? I've tried it myself and know for a fact it can work with pens.
What would any reasonable person have done in their situation? Perhaps they would have used the "Contact the Developer" email link to let me know - asking if they were doing something wrong and perhaps telling me what device and Android version they have. At a push maybe they'd just delete it and forget all about it, after all it cost them nothing. Or maybe they could just give it a 3 star rating of "Ok, but would be nice if I could use a stylus on my Nexus".
Some people just don't tick that way though, which is kind of sad.
What makes it worse is that's there's no way of replying. In this case their review may well put off other users looking for an app they can use a stylus pen with.
As it goes I'm not that bothered at all about the review, as the app is of little importance to me. I just find it all a bit sad that people feel the need to complain about things there's no need to complain about. Hey, I like to complain, but only when I feel it's justified.