Now that I have a new NAS I want to sell my old one. Possibly on eBay. Before I sell that I wanted to be sure the data on the drives is completely removed. Like un-retrievable - even by expert geeks.
Here's how I went about it. The kit I used was:
A Mac Mini
A USB to SATA/IDE adapter (thanks Mark!)
Remove the HDDs from your NAS and one at a time, connect them via the USB adapter to the Mac, as below: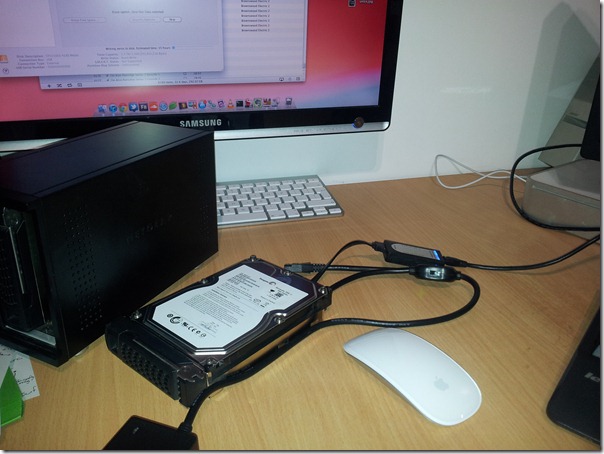 On your Mac press Apple-key + Space to open Spotlight and then search for Disk Utility. Open that application. You should already have seen your HDD show up as a mounted disk and it should now also appear in Disk Utility on the left hand side, as below: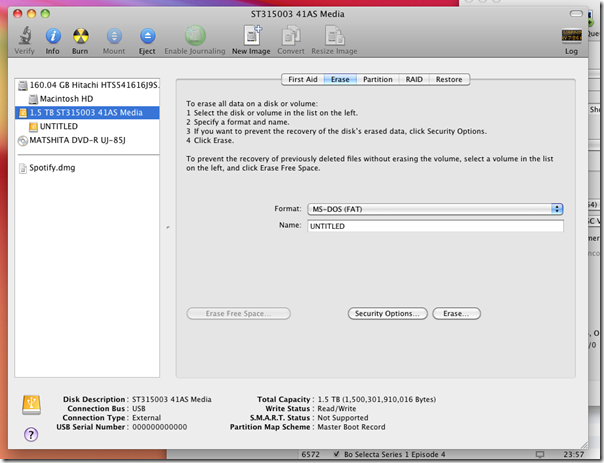 Before you go clicking the Erase button just yet you need to click on the Security Options button, which will give you the following options: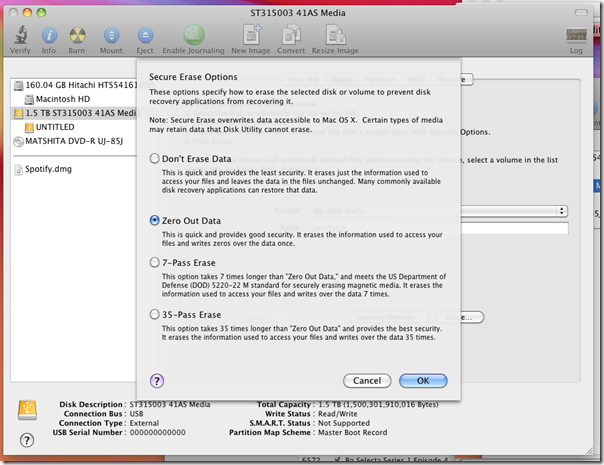 The option I went for is to simply "Zero Out" the data. This simply writes a 0 to every single data block on the HDD. This makes all data unrecoverable. Well, at least in the sense that it would be uneconomically viable to recover it. As I understand it's possible to recover but would involve MI6 or the likes.
I consider myself to be somewhere slightly above average paranoia and I'm happy with the Zero Out option and putting the drives on eBay. If you overly-paranoid maybe you should choose the 7 or 35 pass option? Although, you need to know that the 1 pass option took 12 hours for a 1.5TB drive so the 7 pass option would have taken almost 2 days and the 35 pass a week or more! If you're that paranoid maybe a hammer is a better option?
Once you've chosen a security option simply press the Erase button and leave it to it. Once done your HDDs are safe to sell.