One reason for the recent network changes I've made is to drag our "home cinema" setup in to the 21st century.
Check out our current setup: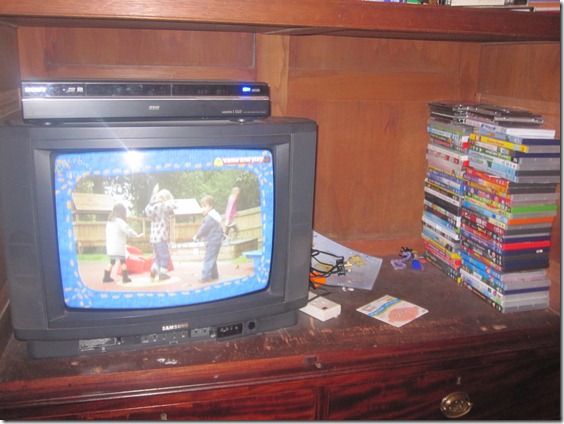 The telly is old. Like, ancient. Karen estimates it's about 13 years old. Notice the flap from the front is long gone. As is the remote control. To turn it on involves pressing three buttons in the right order and then waiting.
It's all contained in an antique wardrobe in the corner of the living room, so we can hide the mess away when we have guests, by closing the doors to it. If ever we do open the doors to the cupboard you can imagine the shock on their faces. Most of them in disbelief that I - a massive geek - have such a telly in the first place.
Karen and I are like-minded when it comes to TVs. Neither of us could care less about them. Nor can we bring ourselves to spend any money on a TV. We're perfectly happy with the one above. However, it only has one SCART input and no HDMI, so it's in no way future-proof. Luckily Karen's mum is "upgrading" hers and giving us the "old" one, which does have a whole load of inputs to it.
My plan now is to get rid of the pile of kids DVDs you can see and replace them with a media streaming box. It drives me mad when the kids ask to watch a DVD and I have to stand their like a muppet for what feels like eternity waiting for the all the DVD intros to finish and the play button to appear (if ever I meet the person behind Disney's "FastPlay" button!!). What I want is direct and instant access to our film library, which they can control (via the iPad?).
I'm in the process of ripping all the DVDs to our NAS box now. At the same time I'm reading up on home media setups and trying to work out which suits us best. I'm struggling though. Not only with the sheer amount of options available, but also in finding something that meets my needs. This is where I'm hoping you guys can help?
What I want is one box to do all the following:
Play DVDs (not bothered about Blu-Ray).
Record or pause TV.
Ideally it would have a two tuners, to record one channel and watch another.
Play any movie file off my NAS server.
Streaming movies off the internet not essential but nice to have.
iPad/phone controller to manage network streaming, playback, channel changing etc.
Am I dreaming? I'd like to get rid of the PVR/DVD in the photo above, just so there's one less box/remote to worry about.
If the above one-box nirvana isn't achievable then what's the next best thing? An Apple TV? Boxee Box? Something else?