Here's a side elevation of our house showing what my network has evolved in to (click for larger):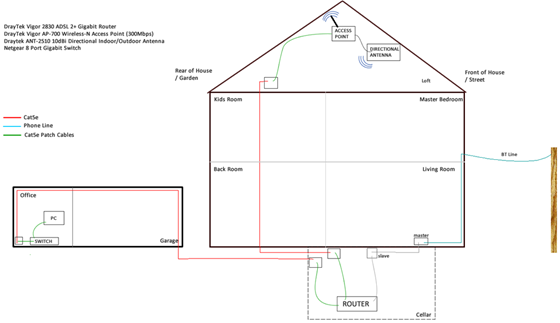 It's been swapped and changed while I've lived here, but is now the "perfect" arrangement of gear to suit the work/life needs of myself and the family.
The WAP ended up in the loft as this is the place I found it gets best coverage of the whole house. Our internal walls are brick. In the loft it only ever need to come through wooden floors to get to any room. It also cover most the garden too.
Over the last week or so I gave it an over-haul and swapped each bit of kit for something faster, more up-to-date and business-class. Gone is all the 10/100Mbps network gear and the 802.11g Wi-Fi. In its place is a new Gigabit network with 802.11n Wi-Fi access.
Here's the kit I just bought to do the job: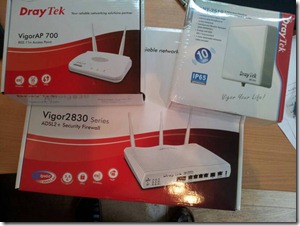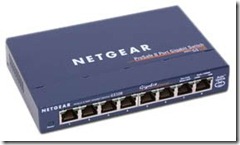 It consists of:
Vigor 2830 ADSL2+ Gigabit Router
Vigor AP700 WAP
Vigor ANT-2510 Directional Wireless Antenna (signal booster)
Netgear 8-port Gigabit Switch
Previously it had been solely a Netgear setup. For no good reason I'd always been quite brand-loyal to them. Lately though it seems like they're more interested in making nice-looking kit to blend in to the living room than they are in making decent functioning kit! Initially I'd bought a Netgear Gigabit router, but it didn't work, so my love for them has finally waned.
After some "research" I opted for DrayTek as they seem to be well-regarded and more business-class than Netgear. None of the kit in our house is visible so looks don't matter. I'd always just gone for the "cheapest will do" attitude when it came to routers and networking gear. This time however I decided to splash out a bit.
The Vigor kit above cost way more than I thought I'd ever spend on kit that "doesn't do anything" but a week on and I'm glad I did. The network is fast. And reliable. Only time will tell how reliable I guess, but, more importantly it feels reliable. You can just tell the DrayTek stuff is serious equipment. Netgear, in their quest for the home user, try to mask a lot of the router's settings from you. DrayTek don't and the admin interface for the 2830 router is a geek-fest of settings I'll never really understand, but enjoy looking at and pretending I do.
Why Change?
I was reminded of the mantra "if it ain't broke, don't fix it" a couple of times during this exercise. It wasn't as easy as swapping one item for the other and it took me much longer than I'd imagined it would. Not least because I also decided to change the IP/subnet range of everything on the network at the same time and it turns out I don't know as much about networking and subnets as I thought I did.
So why do it? Well the catalyst was when a friend asked if I'd help him wi-fi his house. He wants to turn it in to a streaming media-fest by the sound of things. He has got wifi already but lives in an oddly-shaped house and coverage is patchy and unreliable. Apparently money is no object and he just wants it done right.
I said I'd help and so had been looking in to how best to go about it. In doing so I decided it was high time that I took a critical look at my own network. Not only my network but my home entertainment setup. More on that later.