Last night I dropped the family off at my parents' house in Mansfield and went over to the PC World Megastore they have there now. Got to say I'm impressed. I've never liked PC World but the store is geek heaven. I could easily have spent an hour or more just mincing around playing with all the kit.
I was there in search of a wireless keyboard. I left empty-handed as none of them had a decent quality feel to them. As it happens I like the keyboard I have (a Lenovo), so I decided to make it "wireless" with the help of a drill: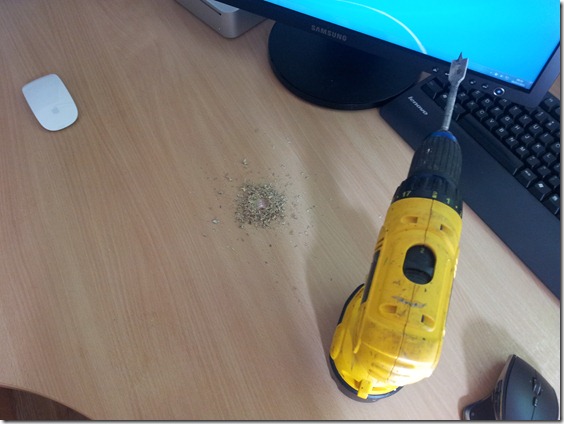 The hole is 10mm in diameter, but I needed a chisel to shave some of the plastic off the USB connector to get it through.
As you can see below it's had the desired effect, while saving me money and having to worry about battery charge. Bonus.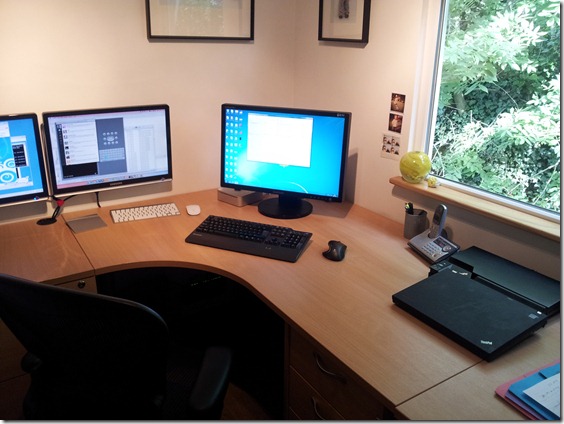 In effect, all mice and keyboard are now wireless and the desk is a lot less cluttered.
Notice the Mac has two mice! After getting the Magic TrackPad and realising it's not a full-time mouse I bought a Magic Mouse too. Now I can't decide between them so have them both in use. It actually works quite well having both - one for use by each hand.
The Mac spends most of its time being used for iTunes and Twitter, so I can now easily control it using my left hand with the trackpad.
As part of this tidy-up exercise I retired the 10 year old mouse I mentioned a while back. In its place there's a Logitech Performance MX mouse, which I'm very impressed with so far.
For now I'm fairly happy with my desk. If budget allowed I'd like to upgrade my monitor, but I don't have the IT budget for it this year. Maybe next year. I'll keep you posted.
Is it the perfect desk though? Not really. The only way I could ever achieve this state of desk nirvana would be if I could make a choice between Windows or Mac and then just have one machine with a single KVM. I can't opt for one over the other though.
Can't help thinking the desk is missing one of these though, which I was playing with in store last night... I've spent more than I ever thought possible on mice in the last month though, so I might have to wait for Christmas.