Is anybody following along with the ASP.NET articles? I won't hold it against you if you say no. It must be obvious my heart's not in it? I'd forgotten just how much time you need in order to write a decent, well-thought-out technical article.
Instead of taking my time (which I don't have enough of) I've been rushing the articles. Still, there should be something to take away from them. I just don't feel very proud of them as it stands.
I'll continue with the articles, assuming you want me to though?
Since starting the articles Ferdy Christant convinced me to take a look at ASP.NET, which I did, and I now have that horrible feeling I've been doing it all "wrong".
I've not touched any flavour of MVC since I fell for Ruby on Rails five years ago. I came away from Rails amazed, but with an idea of what it was best suited to. I then assumed that's all MVC could do, whereas, obviously, there's no reason MVC can't be used for any site.
Within minutes of creating a new ASP.NET MVC 3 project in Visual Studio I got that same feeling I remember getting 5 years ago with Rails. The "Wow, wow, wow!" feeling. I've not really had the feeling since then. It's the feeling that makes you want to stop what you're doing and spend the next week just playing with what it is you've discovered.
One of the things that caught my attention was the Razor "view engine". It lets you code like this: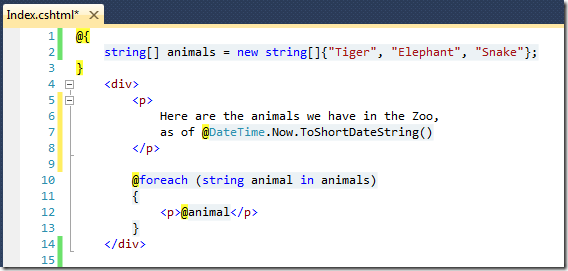 Nothing clever about the code. But. The best thing about what you see above is that I just made it up. In a kind of "I wonder if this would work" kind of way.
In reality you'd pass the View a Model of data, like so: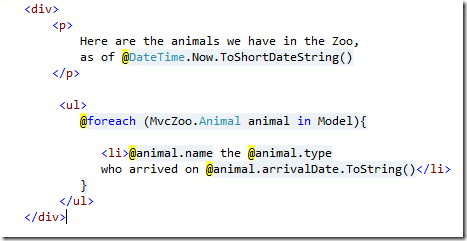 Which would produce:

Either way, I love it when things just work how you'd expect them to. Couple the simplicity of what you see above with the power of VS's autocomplete and it makes for an amazing coding experience you can only do justice to by using for yourself.
There's much more to MVC than an easy way to create HTML. It also makes lots of other aspects of web programming much less painful. Trust me.
The other thing Ferdy convinced me to look at was LINQ-To-SQL which seems like it will take a lot of the misery out of what I've been describing this week in using TableAdapters.
It's a shame I made this discovery so late in the day. Although I can seek solace in the fact that everything I've learnt with the WebForms approach acts as a good grounding in the base .NET approach to things. No regrets, but I do wish I'd taken a look at this a few months ago.
For now, I'll assume there's interest in me continuing with the ASP.NET stuff? If you're new to it I'd still suggest at least getting in to it this way before looking at MVC and stuff.