Recently I had a request for a quote from a company who (desperately) needed their Domino-based website pulling in to the 21st century. They needed somebody to re-design the front-end and build a back-end CMS for it.
One of the things they asked me was:
Would you be using XPages?
My reply was along the lines of:
If you really want me to I could, but whether I would or not is something I'll get back to you on.
Nothing came of the project but it got me thinking nonetheless. Is using XPages for a public-facing website a good idea?
I'm still yet to use XPages in any real way but, based on what I do know about XPages, I've formed my own opinions on when they should be used and when they shouldn't.
XPages are fine for use in web-based applications but they'd be overkill and detrimental to performance for a standard website.
Websites should be fast. Especially so if SEO is of any importance.
Now, let's take the OpenNTF website as an example. As a website it's fairly standard. Noting special going on. Nothing that can't be done with plain ol' HTML and a moderate sprinkling of JavaScript here and there. Yet the website is a real heavyweight.
Taking a look at the site with Firebug's Page Speed plugin: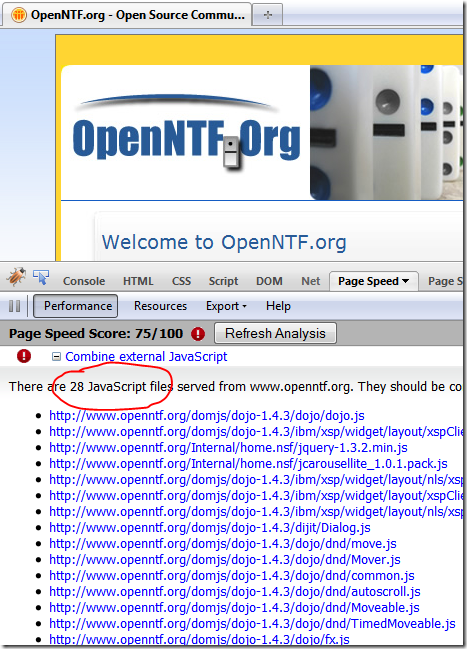 As you can see, there's 28 JavaScript files! Woh there! That's just plain bad practice. No website should ever use that many files without just cause. Clear your browser cache and load OpenNTF's website afresh. Because of the reliance on so much JavaScript you'll see a blank page for way longer than you really ought to.
Same goes for IQJam.net's and the number of CSS files: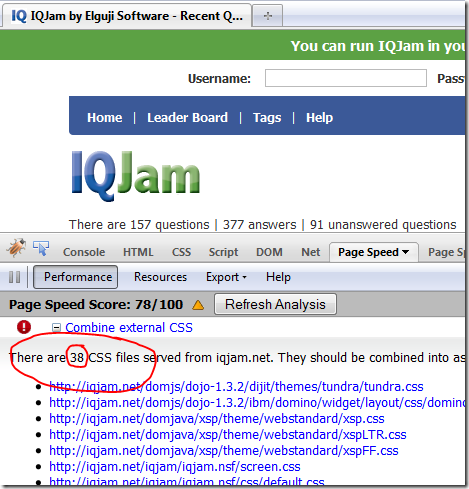 Again, there's nothing going on there that one reasonably-sized CSS couldn't handle.
Apologies to Bruce et al. I'm not picking fault in what you're doing. It's just that yours are the first two XPage-based websites I could think of! That's a good thing, right?
It might be "ok" to have so many JavaScript/CSS files on an internal web-based application, but for a public website? Surely not. If it is ok it's only because it's entirely necessary, which, as far as I can tell, it's not in either of the above cases.
So, my question is twofold -- is it ever a good idea to use XPages for a standard website that happens to be Domino-based and (if so) is there a way to use XPages but without the bloat?
I know I've asked a similar question in the past but I still have no idea whether XPages is a good fit for a website. Next time I get asked to re-design a Domino website and am asked to use XPages I want to be able to reply with more confidence in my convictions.
It all makes me wonder. If XPages is the future of Domino then does that mean Domino has no future as a platform for normal websites?