Once again this year, Halloween was a scary date as it meant financial year end for Rockall. Today is the start of Rockall's 8th year.
Whereas last year the growth chart was continuing to show a generally-upwardly trend, this year things have take a turn for the worse.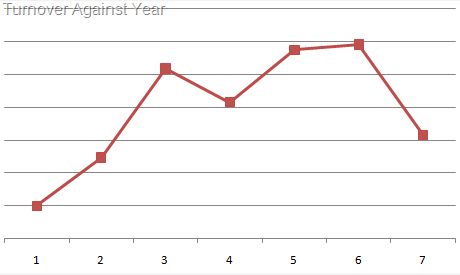 Although I made enough to live off, what made this such a difficult year was not anticipating or planning for such a sharp decline in turnover. The trouble was that I've never traditionally put money aside to pay taxes. What I've always done is pay what I owe out of money earned in the following tax period. I knew it at the time but now know exactly why this is no way to run a business. When your accountants use the word "insolvent" you know you've done something wrong.
It's been a hard and painful year, but I've learnt some very valuable lesson that will help get me through the next couple of years. Hopefully.
What I've Learnt
Plan ahead. The mistake I made was assuming I'd make the same (if not more) in one year as I did in the previous. Of course there's no guarantee of this and unless you plan ahead you can find yourself - like I did - in a very sticky situation. I've since setup a separate business account in to which I transfer VAT and estimated tax on income as it gets paid. I will never, ever touch this money until it's time to pay it to the tax man. No matter what. I always knew this was the way to do things, but it's a bit like PC backups - until you've been burnt you never appreciate how important it is.
Your customers are not your friends. Don't expect the loyalty and devotion you give them to always be returned. I won't go in to any more detail than that.
There are other things I've learnt, as it always the case, be it a good or a bad year, but these are the two big things I'll take forward with me.
Looking Ahead
Although I said customers aren't your friends I'm finding now that there are in fact potential customers amongst my friends. In fact I'm currently working on a sizeable job for a friend. One of my best friends in fact (we were best men at each other's weddings). He happens to work for a large company who need a website building and he knows he can trust me.
I'm finding myself doing more and more self-promotion while talking to people. Whereas I used to change the subject if ever I told people I was a web designer and they said "Oooh, my [insert relation's name] needs a website" I now find myself giving out my email address. As it stands I'll do whatever work comes my way.
Networking has never been my strong point, but I'm working on it and get better and better. In the real world that is. Networking online is also something I should really put more time aside to do.
What's for sure is that I can no longer rely on the fame that once came with being the well-known Domino "guru" behind codestore.net to bring the work in. There's always chance that work might continue to come in via this site for years to come, but unlikely it will be at the volume it once was. I need to adjust my business model to cater for this.
Looking Further Ahead
Something I've always known, but have had affirmed this year, is that I need a product to sell. Sitting and waiting for work to come to me has always worked in the past but I've never felt like a master of my own destiny. What I want is something tangible I can take to market and pro-actively sell.
I've got a couple of ideas. One for a web service and one of a mobile app. All I need now is to find the time to build them. Easier said than done, but I will do it.
Whatever happens I'm determined to continue making a viable success of Rockall Design ltd! I've got three perfect reasons why I've got no choice: