What I saw of Google Apps for Domains was just too tempting and all codestore.net and rockalldesign.com mail now routes there.
There were to parts to making this change. First was to have Prominic update the MX records on the name servers so any email sent externally to either domain goes straight to Google's mail servers.
Secondly I needed to make sure any mail sent by this server to me was no longer sent to my Mail File and was instead sent to Google.
To do this I added my rockalldesign.com address to the forwarding address field in my Person document, as below: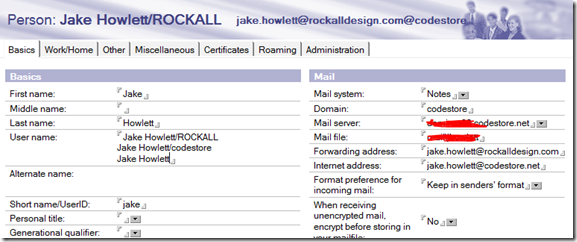 This didn't work though. Mail from this server ended up in mail.box as dead mail as the "Maximum forwarding loop limit was reached". This was strange as the above change is supposed to work.
After many, many attempts at different combinations of mail settings in my Person document and many server reboots I finally worked out what the problem was.
It stems from the Domain document, which you can see in my NAB below: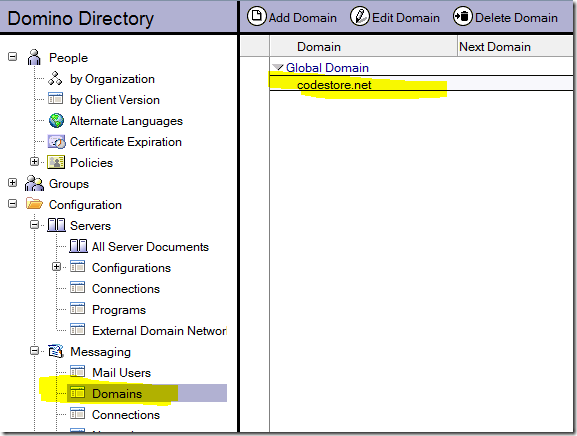 Inside this document, under the Conversions tab is a field called "Alternate Internet domain aliases".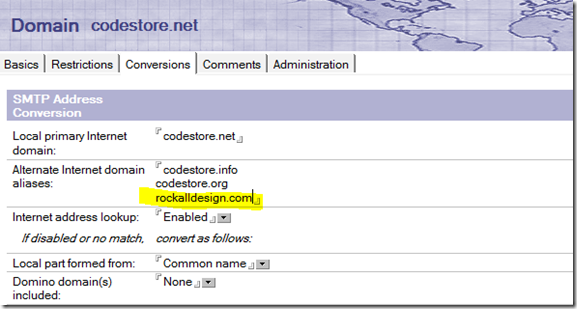 The field listed rockalldesign.com as an alias to the global Domain's internet domain (codestore.net). So, I guess it assumed that mail intended for @rockalldesign.com should route internally. Hence the loop.
I removed the Rockall internet domain from this Domain document and all is now fine. Just in case you ever come across this problem. Took me hours to work this out!
All that's left now is to migrate 10 years' worth of email to Google. For me this will be a painstaking task of drag-drop between Thunderbird accounts inboxes. As the new inbox is IMAP-based it then creates new copies on my desk and syncs to the web version too. It seems Google doesn't like you to send too much at once though, so I'll have to do it month by month...