Not long after you buy yourself a smartphone/iPad you find yourself thinking "What can I make for this?"
After I bought the HTC Hero I wrote a personal-use app for it, which did the job well. Writing it was a pain though and meant getting to grips with yet another SDK/API/Language.
Now I find myself wanting to mess about with the Apple iOS SDK to create something for my iPad. But I can't be bothered delving in to the SDK.
Wouldn't it be nice if you could write apps for your devices in a language you already know?!
Enter Appcelerator Titanium, which, in their words, is:
A free and open source application development platform, Titanium lets you create native mobile, tablet and desktop application experiences using existing web skills like Javascript, HTML, CSS, Python, Ruby, and PHP.
No need to learn Cocoa or anything you don't already know. You can create apps that work cross-platform from one JavaScript source file.
Here's an example: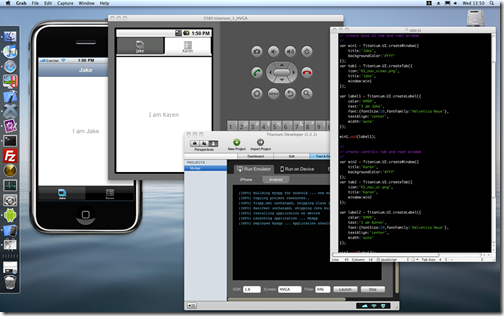 As you can see there are two emulators running - one for Android and one for iPhone - alongside the Titanium app (which is used to manage the project, emulators and packaging of files) and the JavaScript source file being edited in TextMate.
The app you see is just a variation on the default file you get when creating a new mobile project in Titanium. Nothing special. Just two tabs. One called Jake and one called Karen.
Taking it further you can find inspiration in their showcase page. Then download and play in their "Kitchen Sync". Or read the guides.
Thanks to Jeff Gilfelt for pointing me to this app. I won't have real need for it for a while but it's good to know it exists and that I have it installed and ready to go when the time comes.