One of the things that struck me about the iPad was the need for a "PC" in order to start it. When I removed it from the box and turned it on I was told to connect it to iTunes via USB.
Once connected to your computer the iPad can find out what Apple account you want to use with it and setup a sync between the devices. If I didn't happen to own a Mac then I'd have been a bit stuck at this point, as there appeared to be no way past this step.
Had I known about this then I might not have recommended one some time back to to a friend-of-a-friend who was looking for "a new laptop" and had a budget of "about 400GBP". After checking he didn't need Office I suggested an iPad and he later bought one. Whether he had a PC in the house or not I don't know.
The likelihood is that he had an old laptop he wanted to replace and with which he activated the iPad. To do it the iPad way and to keep the apps he's bought he'd have to keep the old laptop handy. Whereas I'd imagine his intention would have been to get rid of it.
This stopped my recommending it to my real Dad who has had a play and was suitably impressed (mainly impressed by how much better BBC News app is than Ceefax).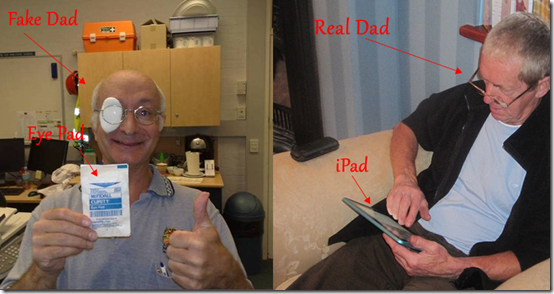 At the moment dad use an out-dated XP desktop PC, use of which is confined to one room in the house - even though he now has wireless broadband. An iPad would be perfect for what he needs. It's just this need for a "real" computer. Does this mean the iPad can never be considered a "real" computer in itself?