Yesterday I started using TweetDeck instead of Twitter.com as a tool for reading/posting tweets and boy am I glad I did. If you're stilling using Twitter.com, stop!
Anyway, first thing I did was set up some search columns - two of which you can see below. On the left is a "real time" feed of tweets that have the word sharepoint in and on the right those that have the words lotus and domino in them.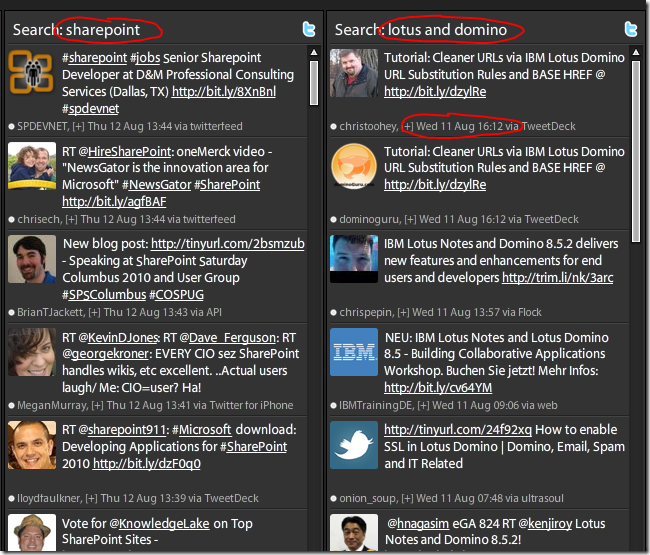 The picture kind of speaks for itself -- there seems to be a tweet about SharePoint on average once a minute (if not more), whereas Domino tweets are about a dozen a day.
My point being that one of them seems a happening, buzz-filled place to be and the other doesn't.
Perhaps this isn't fair? It's hard to track down all of the Lotus Domino tweets via search, as searching for just Domino brings up too much other stuff, while looking for both "Lotus" and "Domino" undoubtedly misses out tweets about Domino which don't have both words in them. But, nonetheless, I think it speaks volumes. Not looking for a flame war (it's not like I'm firmly on either side or anything), just thought I'd mention it.
Going to have to remove the sharepoint search for now, as there are so many popup notifications that's it's a constant distraction.