My server virtualisation consists of a Mac mini running Parallels. It has 2GB of RAM and, needless to say, it's not up to much. It functions well enough, as it tends to just run Domino servers inside Windows 2003 VMs, but it's at near capacity with 2 of them running and the measly 150GB HDD is also reaching its limit. I chose the Mini as it was small, but this comes at a price - lack of expansion options.
Now that I find myself needing new servers to install and test SharePoint 2010 I need a 64bit architecture and something with a bit more umfff, so yesterday I ordered a Lenovo ThinkServer TS200v. Say hello to the new Dogger!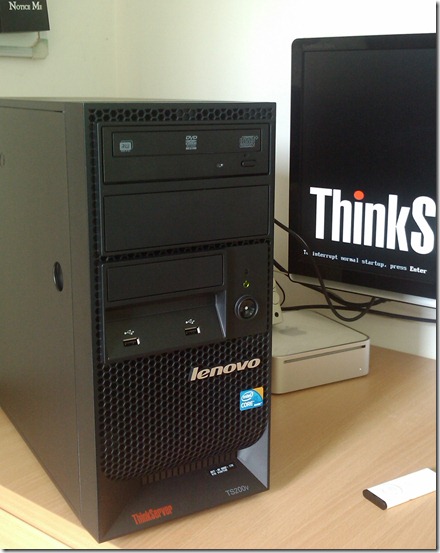 Unlike its predecessor and namesake -- a noisy Dell 1U rack server, which lived in the cellar -- this is as quiet as a mouse (you wouldn't know it was on if it weren't for the LEDs) and will live in the office.
It will run Windows 2008 R2 (x64) and Hyper-V, so I can install and run many more VMs than on the Mac mini, which I'll decommission at some point. It came with a 500GB HDD, which should do for now. It came with 2GB of RAM, but I'm expecting a delivery of 6 more some time soon.
Right, where's that SharePoint DVD gone...