In my never-ending quest to find my perfect desk setup I've "invested" in another monitor. Bringing the current total to three.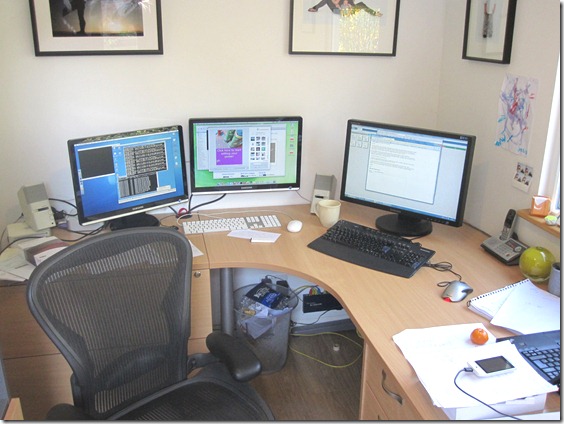 The right-most 24" monitor being connected to my laptop and the main work area. The other two 22" monitors are connected to the Mac Minis. One for messing about on/testing/iTunes and one to run servers inside Parallels. The two Minis used to share a monitor via a KVM switch but I got fed up with switching all the time just to see the Domino server console messages (am I the only one who still debugs web apps using Msgbox?!). Now they just share the keyboard and mouse.
As important as the time-saving aspect of not having to switch between monitors all the time is the fact it looks cool. If I could get away with it I'd have a whole bank of them. Stockbroker-styley. Ideally some of them would have line charts on them (maybe just pseudo-data, but it would look cool). Surely there's no such thing as too many monitors.
Is there such a thing as a perfect setup for a desk? What's mine missing?
Update:
Thanks to Palmi I've extended the number of screens by one. For free!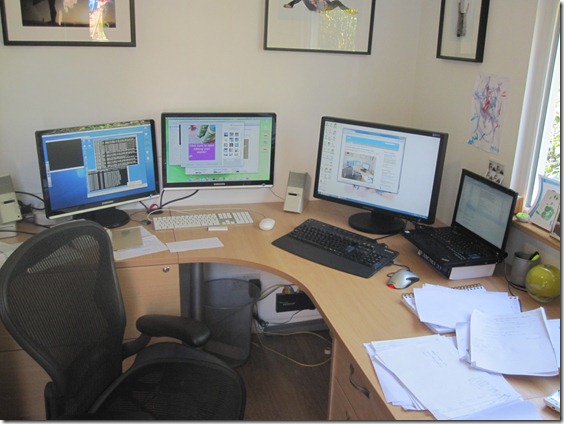 Anybody fancy a game of spot the difference between the two photos?