Six years after writing about a way to use icons from Windows DLLs for Notes databases and I'm still in the same boat -- developing solely for the web but still needing an icon to represent the databases on the Notes Workspace.
The app I used to use (Multimedia Explorer) is no longer available, so I've been finding other ways to find icons. Then I saw an app twittered the other day which does exactly what it says on the tin -- IconExtract.
Here's what it found after I told it to scan the Notes program directory for icons: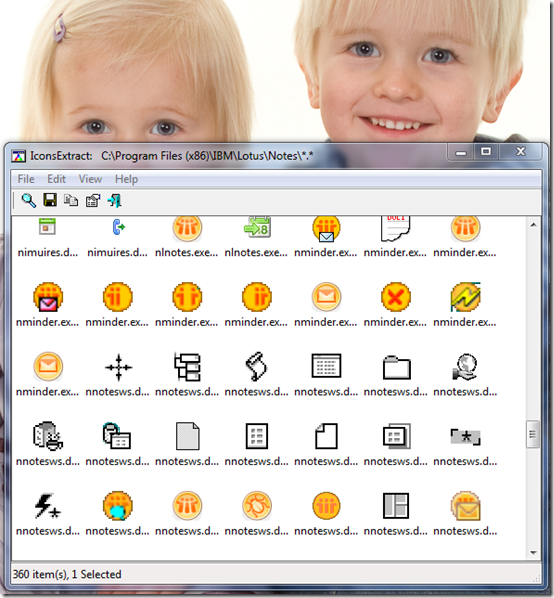 From there you can now copy and paste an icon in to the icon editor, as discussed all that time ago.
Finding this app on Twitter couldn't have been more timely, as, last week I had a meeting with the company I alluded to in this post about the Workspace in Flex. In it I said of the workspace project:
A good customer of mine is moving away from Lotus Notes (client) on their desktops but keeping the Domino server and migrating the Notes apps to the web. One of the options I've suggested to them is using a Flex framework to ease the migration.

To ease the transition for the user I had the idea of providing some familiarity in the new environment. Whether they want a reminder of the Notes client or not I don't know, but it seemed like an interesting challenge and has been a fun learning experience so far.

Whether I'd actually suggest its use or not I don't know. I just thought it might make a nice portal.
Turns out I didn't need to suggest it, as said customer still reads this site (I'd assumed they'd stopped) and had seen and liked the Workspace. With a bit of corporate branding they can see it being useful. Maybe I'll get chance to finish off the app after all and being able to use nice icons will only make it look even better. You've got to love Twitter!