Yesterday morning at 5-something o'clock Karen woke up in the early stages of labour. Within minutes I'd called the midwifes. Remember last time we'd planned a home birth for Minnie, but left it too late to call and ended up speeding to hospital in an ambulance. Didn't want to repeat that experience.
It was a good job I called so soon, as it had snowed during the night and the midwife on call had to come from a town about 14 miles away, which took her an hour. An hour after she arrived, so did Evelyn.
Here's a photo of her in the style of the one of Felix and of Minnie on the days they were born. She looks a lot more like her brother than her sister.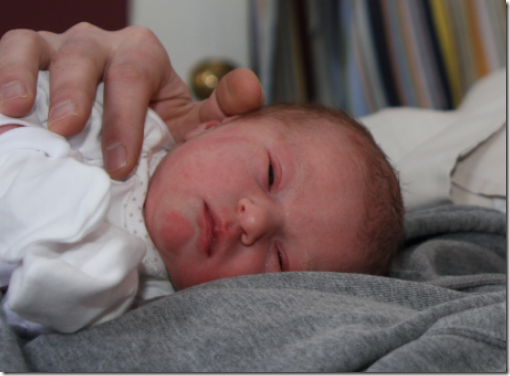 The birth was all very straight-forward, which I guess it's easy for me to say. Mother and baby are doing well.
My plan is to work from the house for at least this week and just spend an hour or so at the laptop each day to keep on top of things. At least that's the plan.