We got a letter from our electricity provider recently to say our bill was going up from 38 to 50 pounds a month. The week after I bought a ReadyNAS Duo to replace the five-year-old Dell PowerEdge server that's been sitting burning electricity in the cellar.
Although the PowerEdge started out as an Active Directory PDC, DNS server and the main Notes server time's have changed and it's now redundant. All it did in the end was act as a file server and spent 99.9% of its time doing nothing at all. The ReadyNas now does the file sharing while burning a lot of less power, offering RAID backup and has oodles more space (1.5TB!).
My never-ending quest for the ideal SOHO IT setup continues. As I do this it's inevitable that a pile of old kit would mount up. Here's mine: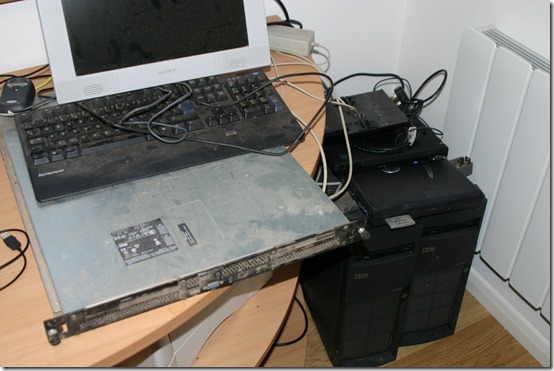 As well as the PowerEdge there are two working IBM servers, a Dell Inspiron laptop (low-spec but works) and an IBM ThinkPad T42 (spare parts only). There's also quite a few old routers and other bits of kit I don't need.
I've put it all in the corner of the office to force me in to doing something with it other than hiding it all in cupboards or the cellar.
Having looked on eBay I can see I won't get much (if anything) for any of it. What I'd like to do is give it to a good home. Somebody who is in the same position I was in years ago and needs a server to put LAMP on to learn web development. All three servers are perfectly capable of running a small home web development server.
What I don't want to do is give it to some Freecycle lurker who would simply pedal it on at next Sunday's car boot. Ideally I want to give it to a charity who I think might make good use of it. Anybody know how I go about doing that?