There's little doubt that 8.5.1 is a huge leap forward in terms of coding. Writing LotusScript is now almost (but not quite) a pleasure.
As pleased as I've been with the LotusScript editor I'm a bit dismayed at the new way of coding Java, which I used for the first time just recently.
If you open a Java agent now you'll see something like this: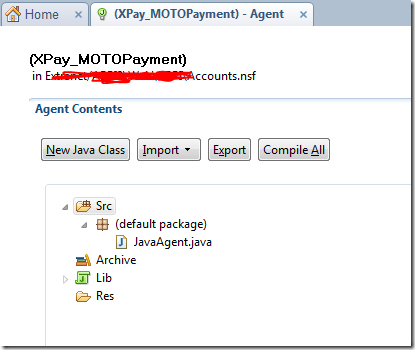 To actually edit the Java you need to open the JavaAgent.java file by double-clicking it. You then get to the code, like below: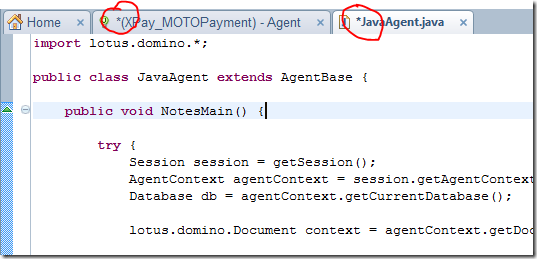 Notice that I've modified the code and that (to denote this) there's an asterix next to the source code file and the main Agent tab, as ringed above.
The image below is of the same thing but after I've saved/compiled the source code by pressing Ctrl+S. Notice the asterix is now only next to the Agent itself.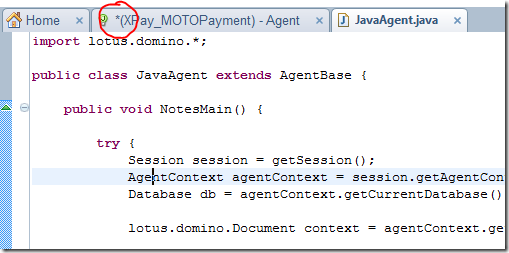 What I've learnt is that saving the source code does not save the Agent. I learnt this the hard way, which was:
Change the code
Press Ctrl+S
Alt-Tab back to browser
Press F5
Scratch head as nothing's changed
Goto 1
I can't remember how many times I repeated the above before I started putting System.out.println("here") in the code and before I finally realised my "mistake".
I'm sure there's a good reason why saving your code doesn't save the Agent but, unless you know it won't, it's one of those maddening experiences that just wastes a whole chunk of your day.
Here's hoping that the first reply to this is somebody telling me I need to alter the preferences to build the agent when the source changes. I've got a Java-heavy spell coming up and this is going to drive me nuts.