It's been a while since I posted one of my tenuous analogies. Such an analogy came to me this morning in the shower. Computers are like cars. Stick with me.
Here's a picture of the first car I ever owned. It was when I was about to turn 18 and go off to uni to "study" Mechanical Engineering. Not that the degree had much to do with cars, but I spent the summer before I started tinkering with my little Mini. I did all kinds of things to it. Draining the brakes and changing the head gasket for example. The engine was easily accessible and I felt comfortable tinkering with it.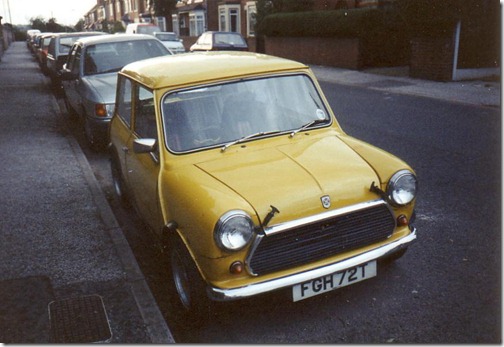 The fact it was a death-trap that my then girlfriend's mother refused to let her travel in (quite rightly so) was besides the point. It was fun. I just hope my kids (or their partners) never turn up in anything like it.
Because I happened to find them while looking for the photo above, here are shots of the two cars I owned subsequent to the Mini.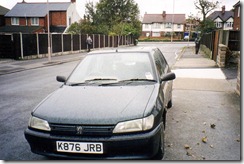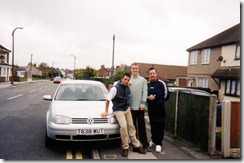 I remember owning a Haynes manual for the 306 but not for the Golf. I bought the Golf brand new (will I never learn!) and so it was covered by a warranty, so I never needed to touch it.
Where is this going? Well, my first computer was like the Mini. It was accessible and I often tinkered with it. Sometimes I'd completely strip it down, clean all the bits of dust and rebuild it. With the OS (Win 95) I used to know all the nuts and bolts of it. I knew exactly what each line of config.sys and auto(?).bat meant and how to change them.
Forward fifteen years and I've just bought another new car. I can't imagine for a second that I will ever even lift the bonnet. I have no interest in how it works, just as long as it does. Same goes for my latest computer. The fact it's a laptop makes it unlikely I'll ever lift the lid on its inner workings. The fact it Windows 7 means (AFAIK) there's no longer a config.sys file and I have no idea how it boots or how I'd tinker should I want to. Fact is I don't want to.
So, what's changed? Maybe it's just me and I have less time and interest in tinkering with either cars or PCs. More likely I suspect is that it's the manufacturers making a conscious effort to stop us from being able to?