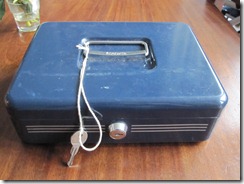 Karen hates the fact I won't tell her the password to my computer. There's no reason why I shouldn't really, as I have nothing to hide. Although, that said, this picture of the kitty for the toddler's playgroup Karen is in charge of might give you an idea why I won't.
The main reason I don't tell her is that it stops her being able to unlock my PC while I'm not there and use my Windows account for her own (doing untold damage in the process). She has her own /ROCKALL account and can switch user to use that instead.
But, on a serious note, there is a good argument for her knowing the password; what if I died!?
In our house it's me that "controls" all the finances and pays all the bills etc. Karen doesn't even know the login for our joint bank account.
What worries Karen (and me too since she brought it up) is not knowing what she'd do in the event of my demise. Where are the savings? Who's my pension with? Where are my ISAs? What about the childrens' CTFs? Etc. What I've been planning on doing is putting together some kind of "In the Event of Emergency" envelope that contains everything she needs to know. Maybe I/we should write a will too?
On a less serious note, what about this site? Wonder what would happen if I died. Who would let you know so you could start mourning the loss. Back to a more serious note, who would let me customers know? Karen would need access to my email account so she could let them know. Maybe she could post an obituary here too. Although that really would be pushing it.
Is this something any of you have given any thought to and/or have an action plan for in your household?