At the end of last month I tweeted:
Unless Notes Designer 8.5.1 is much better than 8.5 I'm going to have to go back to 7.0.2
Such was my disappointment in the 8.5 IDE! It's hard to put my finger on exactly what I found so annoying, but it was definitely flakey. Am I the only one who thought that? Slow too. To the point where I could tell I was being less productive than when I used 7.0.2.
Well, I'm happy to report that after only five minutes using 8.5.1 that this is no longer the case. It feels solid and polished. No flickering and jumping here and there while I wait and wait for it to load the list of Forms. Design element lists (and the elements themselves) open as quickly as they did in 7.0.2 rather than waiting for an age, as I felt I was doing in 8.5.
Now, get this. I actually got excited by Domino Designer. Don't think that's happened since version 5.
I need to play more but so far my favourite feature has to be the new LotusScript editor. Oooh, colour coding!
Best of all it now has type-ahead coding. Not only that but it also works on my own classes. Here it is offering suggestions on teh "web" object which is based on my "WebSession" class, which any of you familiar with the demo DBs on here will recognise and which I use all the time.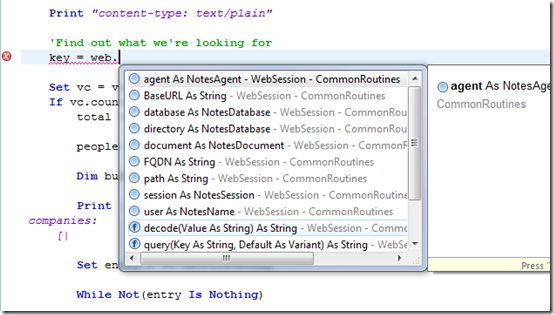 Off to play some more...