With seemingly little fanfare, IE8 went "gold" last week. This got me thinking. Mainly about whether it means it's now time to upgrade from IE6 to IE7. For me personally that is, rather than for the whole web (I'm sure we all agree it's time for demise of IE6). Should I upgrade IE on my main development PC though, that is the question?
Here's my setup at the moment (click for full size):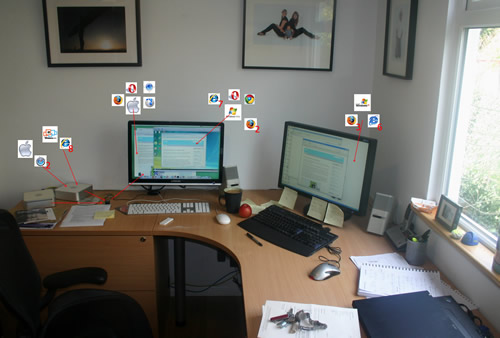 I think I've got most browsers and versions covered and available for testing at any point. What's the problem then? Well, I just want to always have the lowest common denominators as the browsers I work with on my main PC (XP on the laptop and screen on the right). Design for the lowest browser and you're almost guaranteed it will work in the others. I echo Andrew Tetlaw's sentiments about supporting IE6.
Now, I know most of you don't like IE (nor do I as much as when IE 6 first came at) but, let's face facts, The Business likes Microsoft and IE is Microsoft, so they use it. As developers that means we're obliged to care.
The problem isn't so much that The Business likes IE it's that they're slow to adopt newer versions. Roughly speaking about 3 of my 5 big, repeat customers are still using IE6. That's why I have to continue to develop for it.
With some clients we've agreed that systems I develop will support A-Grade browsers, as defined by the Yahoo! Graded Browser Support, which now included IE 6, 7 and 8. IE being the only one with more that two versions on there are the same time. Surely it's time they dropped IE6.
What I might do is start trying to convince customers (some of who also have customers of their own which, in turn, use systems I've developed) to drop support for IE6.
In the mean time I need to decide whether to update my laptop to IE7 and shift IE6 to one of Win2000 virtual machines I use to run servers on the right-hand Mac mini. It's tempting but something is making me hold back.