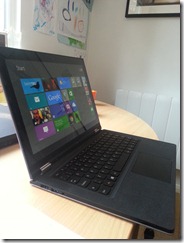 This week I got myself a new toy — a Lenovo Yoga 13 "laplet" (a laptop and tablet in one). If you've not seen the advert for it yet, then it's the one where the lid folds all the way back to make it in to a tablet.
So far I've been wowed by it and can't put it down. Not only is the device itself amazing, but I've been won over by Windows 8.
Initially I'd dismissed Windows 8 as an elaborate hoax but that's because I was trying to use it on a desktop (inside a VM) without a touch screen. To truly get Windows 8 you have to use it on a touch screen device. Then it makes sense and is actually really quite nice.
The Yoga 13" has the full version of Windows 8 on it, whereas the Yoga 11" is WinRT (app store apps only!).
Why a new laptop?
I wasn't in the market for a new laptop as such. My trusty T400 is still going strong after more than 2 years. But the T400 weighs a tonne and carrying it anywhere isn't nice.
It was by chance that I happened to pick up and play with a Yoga 11" in a shop. They're so nice that I just knew then and there that I had to get one.
Initially my argument for the expense was that I needed an IE10 test machine. But then I realised I could also use it as my "house PC" and leave the T400 as an "office machine". The Yoga could also be my on-the-road customer support PC (I bought a nice bag for it too). There are times I go away for long weekends and take the T400 with me, but it unnerves me if ever it's left in the car. Losing my main laptop would be bad.
What I didn't expect is that after a week with the Yoga and Windows 8 I'd want to switch to using it full time. But I don't think I can, realistically. It's a lovely device that I have no regrets buying, but it just won't cut it as my main work machine.
The Not So Good
There are a couple of reasons it can't take over as my only laptop:
No Ethernet port. The wifi signal in my office is ok, but I prefer to be wired in!
Not enough memory. The Yoga 13 ships with 4GB RAM and 128GB SSD of memory. I've upgraded the RAM to 8GB and plan to add a 2nd SSD (there's a second slot for one!) to bring the capacity up to 384GB. But that's still not enough to store all my photos and videos.
No obvious way to connect a (large) 2nd display. It only has an HDMI output, which, AFAIK, only supports low-res output.
Despite these shortcomings I have no regrets buying it and now quite like having two laptops.
If you're looking to treat yourself to something this Christmas I can whole-heartedly recommend the Yoga.
The future is touch screen!