I have a 12 year old Bose AWMS, which, despite its age, is still as impressive as the day I bought it. People who've never seen or heard it before are always impressed. It's funny to see the look on their faces when I bring it out ("what the hell is that!?") and how then their expressions change when I turn it on and crank it up.
Bose get a poor rap (apparently, if you read in-depth audiophile reviews) but I can't fault the AWMS and have since bought a pair of Bose Companion 5s for my desk, which are equally as impressive.
But anyway. The AWMS has been rarely used over recent years. That whole business of finding a CD and changing it when it's done makes it just so last decade.
Now, I'll be the first to admit I have questionable taste in music. Nothing I'm ashamed of. Just certain things that people don't get (cough, Jean Michel Jarre, cough, Pet Shop Boys) and, admittedly, are kind of embarrassing.
We had a few friends over for a BBQ the other day and I brought out the AWMS and a 3.5mm to RCA convertor I'd bought. I then put on all 4 of the Way Out West albums I own on repeat via the Twonky media server on my QNAP NAS and the Aria media player on my Nexus 7. For the first time ever, nobody, most noticeably Karen, complained. In fact people said they liked the music!
I've since decided to upgrade how I consume (provide?) music. First off I've bought a Logitech Bluetooth media receiver, so I can beam straight from my mobile device to he AWMS. Second, I succumbed and signed up to Spotify Premium, which now supports Android.
The new setup now looks like this: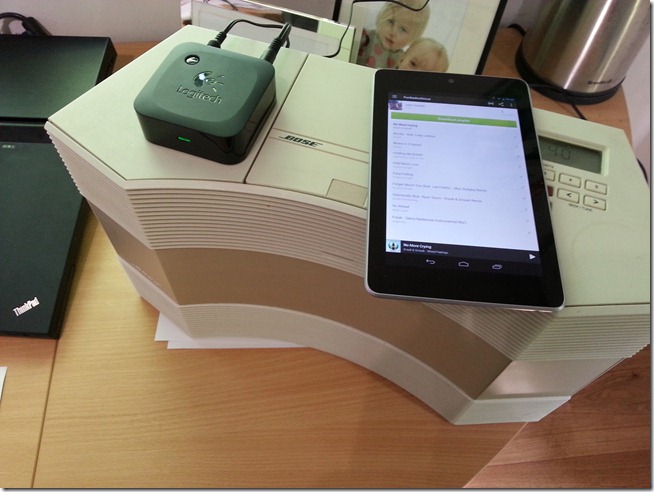 All I need now is nicer weather so we can have more people over for barbecues. Or dinner parties. Any excuse to have people listen to my choice of tunes. Chances are it will be mainly used for pass the parcel at the kids parties.
Wow, though. Spotify is amazing! I'm amazed and addicted. I love finding new music. Something that's kind of hard to do the old way with CDs and whatnot.
As my friend who has been trying to talk me in to Spotify for years has always said "the CD is dead". It's just that I'm a stick in the mud and a bit old-fashioned. I like owning the hardcopy CD. Or at least I did. I'm a convert to streaming and not-owning now.
I just wish this revolution in technology had happened 10 years ago when I was a bit more... erm, happening.