I seem to have unwittingly built up quite a collection of mobile devices, which make for a nice "test lab".
Here's (the newly-responsive) Codestore seen on them all: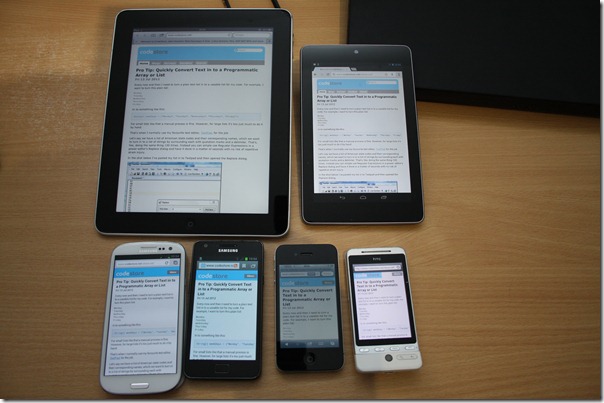 Clockwise from top left there's an iPad (1!), a Nexus 7, a HTC Hero, an iPhone 4, a Galaxy S2 and a Galaxy S3.
Which is my Favourite?
Isn't the youngest child always a parent's favourite? In that case it's a close call between the day old Nexus 7 and the month old S3. They're both amazing. The Nexus slightly more-so as it has Jelly Bean and Google Now on it. When Jelly Bean comes to the S3 then it will be the hands-down winner for me. The S3, for me, is the closest I've ever come to thinking this is the perfect phone. I can't fault it. Not even on size. It doesn't seem big at all to me.
Least favourite is the HTC Hero. Even when I owned it it annoyed me. Now I look back and wonder how on earth I managed with it. I guess my use patterns have changed considerably since then. When I owned the Hero I just used it as a phone. Now I use phones as everything but a phone. My S3 is a constant companion that I'd struggle without.
Out of the others the iPad is now a bit of a white elephant. It's "old" (2 years!!) and has been relegated to use by the kids who mainly use it to play games and watch Max & Ruby on Netflix. The S2 is probably going to end up on eBay unless I decide to keep it as a testing device. The iPhone is Karen's favourite - it's perfect for what she needs. Personally I still don't get the fuss about iPhones. You just can't do much with them. They're so teeny. Like a toy.