Not sure how we got on to the conversation but a carpet layer friend was telling me how he'd had the same "bolster" for 15 years.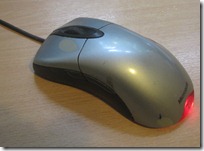 Trying to out-do him my retort was that I'd had the same mouse for 10 years, which, to me, is much more impressive, given that IT kit generally has a life expectancy of about 5 years.
It's a Microsoft IntelliMouse (I think) that my then girlfriend bought me for my birthday (because I asked her to) in 1999/2000 (can't remember exactly when).
Since then I've thought about buying new ones, but following the principle of "If it ain't broke..." I never have.
You can see how the amount of wear it's had from the patch on the left button!
It's the oldest bit of IT equipment I have, has seen many computers come and go yet it's still going strong despite being in heavy user almost every day.
What's the oldest bit of kit you've got?