On Friday I added a "file management" area to the contact form in the app I'm working. Not long after, as I expected, a couple of you asked for the "killer feature" of being able to upload more than one file at a time.
Ask and thou shalt receive!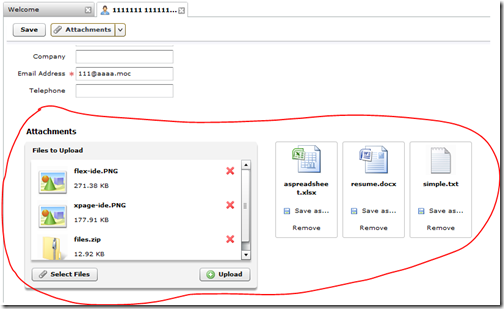 The vertical lists of files on the left is the "queue". Files shown there have been selected and are waiting to be uploaded.
Notice that, if you press the Select Files button, the file dialog that appears allow you to select more than one file at a time - unlike with the counterpart HTML file upload control.
Pressing the Upload button sends them, one-by-one, to the backend document. As each file is uploaded it gets removed from the queue and added to the list on the right.
Notice also, that the tiles for existing attachments on the right now include a "Save As" link. Whereas clicking the icon for the file lets the browser decide what to do, the Save As button lets you simply save it to your disk.
It needs a little more refinement, but I think it's ready for you guys to test it.
Replacement For ActiveX?
On Friday Curt Carlson said:
Now if you could choose to upload multiple files in one shot, that would be something Domino has refused to do without active x or some other non-native functionality.
This got me thinking. While this FileManager Flex component is a part of its containing Flex app, there's no reason it can't be used standalone in a normal HTML page.
Rather than needing to install/sign/embed a 3rd party ActiveX component and restrict your users to IE you could just add this component as a Flash SWF file and let it interact with your backend Domino document in the same way you can see it doing in the Flex demo.
If you're interested I'll create a SWF and demo?